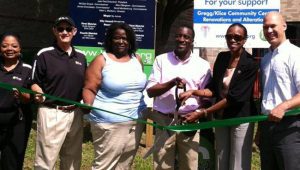 On June 22, Gregg Klice Community Center reopened with $1 million of renovations and improvements.  Councilman Jermaine Reed, Councilwoman Melba Curls, Parks Board President Jean Paul Chaurand and KC Parks Director Mark McHenry were among the dignitaries who cut the ribbon to officially reopen the center.
PROJECT HISTORY & HIGHLIGHTS
George Knipp, Architect & Owner of Go Studios, was selected as the project Architect the first week of December 2012 and the Gregg Klice Community Center project was awarded to NW Rogers Construction on January 22, 2013.  Notice To Proceed was given on February 5, 2013 and work began February 6, 2013.
Men & Women's locker room renovation included:
steam room demolition for new ADA locker area, new ADA sinks and showers
raise 3 toilets, add new flush sensors and new toilet partitions
replace existing lockers with new lockers in both locker rooms
new granite sink counters, fixtures and hardware
women's shower floor repairs
new shower fixtures, hardware and shower wall tile in both locker rooms
new floor treatment and wall paint in both locker rooms
new acoustical ceiling tile and gypsum board ceilings in both locker rooms
replacement of rusted fire sprinkler escutcheons and air vents
Construction of a new 16'x24' Building Addition on the patio outside the south natatorium wall included:
a new hot tub with a ADA hot tub lift
new unisex ADA sauna room
new climate control unit for building addition
At the former hot tub location, men and women's ADA steam rooms were built.
During the course of the project other improvements were noticed that needed attention leading to Change Order 1 which included: fitness room flooring system, Natatorium pool & lane marker paint, replacement of all gutter grates, water lever controller, paint at rust prone areas, add a new ADA pool lift for improved patron access, men's locker room shower stall partitions and new flooring in the Fitness Room.
The total cost for improvements was approximately $850,000 with an additional $150,000 for the purchase and installation of new fitness equipment.