July is National Parks and Recreation Month and KC Parks is celebrating in a big way!
DISCOVER #KCPARKS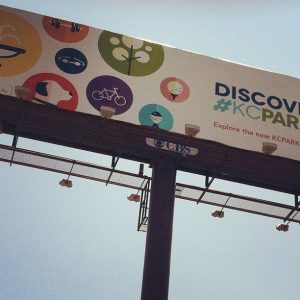 Area residents are encouraged to DISCOVER #KCPARKS and explore our new website, kcparks.org, with the placement of two high profile billboards — look for one just south of Bartle Hall (over Denny's) and the other on U.S. Hwy. 71 south at 18th Street. Lots of digital media is also being employed to reach families in the metro and direct them to the new site. In addition, a KCATA bus will make its debut wrapped with the DISCOVER #KCPARKS tagline and icons. Catch it driving around the city daily or at the Family Fun Fair during Party in the Park!
A NEW ADVENTURE EVERY DAY
"A New Adventure Everyday" calendar of events featuring an activity or event highlighting a KC Parks facility, amenity or attraction was created and emailed to our entire database at the beginning of the July. The "Daily Adventure"  is tweeted and posted on Facebook every day as well.
PARK IT FORWARD
Our PR team is out creating a buzz through a program called "Park It Forward".  The team approaches people enjoying our parks/amenities, presents them with a KC Parks-related prize, takes a picture and posts it on our social media outlets. "Park It Forward" is all about raising awareness of KC Parks programs, services and amenities and the numerous opportunities we provide the community.  See the "Park It Forward" winners in our National Parks and Recreation Month photo album on Facebook.
PARTY IN THE PARK
Our annual National Parks and Recreation Month celebration, Party in the Park, continues this year on Saturday, July 20 when residents can enjoy free, family-friendly activities in Swope Park all day long.   Events include free Zumba class, golf lessons, hikes, pool party, pet adoption and more.  Visit our website for a complete schedule of events.
Happy National Parks and Recreation Month. We hope you enjoy discovering #KCParks and continue to do so all year long!