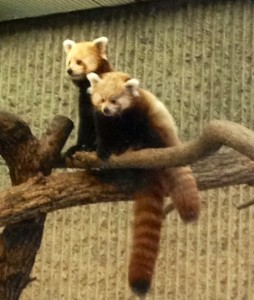 Two adorable four-month old red panda cubs are exploring their exhibit while a watchful mom is nearby. Growing by leaps and bounds, they are now over 4 pounds each, at birth they were less than four ounces.
Their agility skills are still being defined as they cling tightly to the tree limbs within the exhibit. These two boys, Ru and Junjie, are now learning to eat solid food. Biscuits soaked in apple juice are their favorite.
See these cute red panda cubs explore their exhibit on Tiger Trail at the Kansas City Zoo.