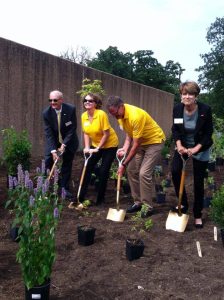 On August 19,  Bayer CropScience in partnrship with Bridging the Gap and KC Parks celebrated the contribution honey bees make to Kansas City's landscape by planting a pollinator-friendly garden at Lakeside Nature Center in Swope Park.
Bayer has been actively involved in finding solutions to improve honey bee health for more than 25 years. As a company dedicated to crop protection, Bayer is committed to environmental stewardship and sustainable agricultural practices, including the protection of beneficial insects such as honey bees.
Bayer believes that supporting honey bee health requires ongoing dialogue and engagement among key stakeholders. By planting a local pollinator patch, Bayer hopes to celebrate the area's rich diversity of flowering plants and raise bee health awareness among the Kansas City community.
The importance of pollinators has never been greater. The need to feed a growing world population in a sustainable way makes pollinator awareness and support a pressing issue.
Bayer's Bee Care Program brings our extensive experience and knowledge in bee health under one coordinated initiative. The program includes two dedicated Bayer Bee Care Centers in the U.S. and Europe, ongoing Bee Health research, engagement and collaboration with key stakeholders interested in engaging in the conversation on bee health, as well as stewardship and biodiversity.
MORE INFORMATION:  BayerBeeCare Center on Facebook