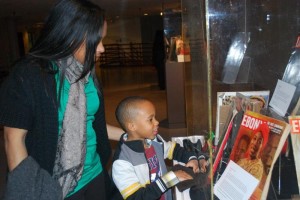 Bruce R. Watkins Cultural Heritage Center, 3700 Blue Parkway, presents an exciting original exhibition for Black History Month entitled The Power of An Image: Positive African American Images in U.S. Media from the 1940s to 1980s.
This interactive exhibition allows visitors, young and old, to take a journey and explore many compelling and persuasive visual images. Influential and rare issues of magazines, such as LIFE, TIME, Newsweek, Essence and EBONY are displayed throughout the exhibition. In addition television clips, and ethnic children's toys are exhibited.
For centuries African Americans in popular media were depicted in a negative light. Often portrayed with overemphasized and animal-like features in advertisements and the media, transforming the image of African Americans was at best a daunting task. During the 20th Century glimmers of social change occurred as media, especially magazines and television, positively began to transform "the visual landscape of America."
The museum's Executive Director Jesse Barnes states,"The Power of an Image is an educational exhibit that gives youth and adults a better understanding of the historic role that positive images of African American figures played in diversifying America."
In an era before the internet and with television only beginning, the main source of entertainment and sports news was through magazines. Magazines offered news and gossip, hundreds of photos (some even in color) for millions of readers throughout the United States for a quarter or less. Through cover and feature stories of African American celebrities, the image of African Americans slowly began to change.
African Americans began to control their own images beginning in the 1940s. Publications for African American men and women with titles like Sepia, Our World, Tan, Negro Digest, EBONY, and Jet shared positive stories of African Americans covering contemporary topics from black history to sports & entertainment with regular articles on health, fashion, politics & social awareness. Often these magazines had been created with similar formats to mainstream magazines, however the focus was aimed towards black consumers often with advertisements featuring black models and with the primary purpose of instilling pride through the representation of African American achievers.
The Power of an Image is on display through May 31 in the upper gallery. Admission is free and open to the public. For more information call 816-513-0700.