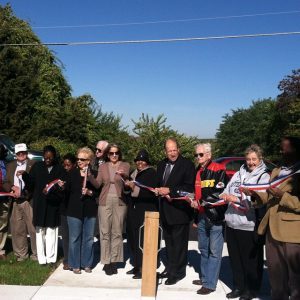 On October 25, the City of Kansas City, Mo., opened a new section of trail for cycling and walking in the historic 3 Trails Corridor. The section runs along 93rd Street from Newton Avenue to the western entrance of Schumacher Park, crossing the Kansas City Southern railway bridge. The 3 Trails Village Community Improvement District helped plan and fund the project in partnership with the City's Public Improvement Advisory Committee (PIAC) and general obligation (GO) bonds.
Along with the new trail, additional improvements include a park bench, bike rack, National Park Service historic trail markers and interpretive signage.
Although short in distance (736 linear feet), the new section is long in history. Schumacher Park is a National Historic Trails site that highlights the Santa Fe, Oregon and California trails, with national park interpretive exhibits tracing the great western expansion of the early- and mid-1800s. An estimated 500,000 pioneers and adventurers headed west in wagons along some of the same routes that bikers and walkers now can travel.
A much longer section of the 3 Trails Corridor is expected to be completed later this year, along Bannister Road from Drury Avenue just shy of Marion Drive leaving a short stretch for a future connection to an existing trail and bike route along Hickman Mills Drive.
Since the adoption of the Trails KC plan in 2008, the City continues to expand and connect the fragmented pieces of its shared use trail system. At the time of adoption the City had 25 miles of short, fragmented trail sections constructed. Since then, the City has completed approximately 65 miles of trails, including continuous segments of the Line Creek and Shoal Creek trails in the Northland and Indian Creek and Blue River trails in south Kansas City.
More information and pictures at BikeWalkKC.