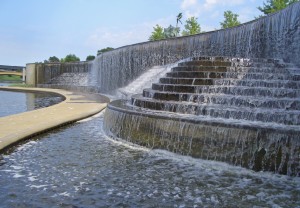 Tuesday, April 12
11 a.m.
William Volker Memorial Fountain
Theis Park, Charles B. Wheeler Amphitheater
Oak and 47th Streets
The second Tuesday in April marks the day when Kansas City, Missouri's 48 public fountains spring back to life!   Please join the Board of Parks and Recreation Commissioners for the official start of 2016 fountain season in the City of Fountains.
Following the ceremony, stick around for lunch as a number of food trucks will be on-site to kick-off a new fundraiser for our city's fountains – the Feast of Fountains.
---
Parks: