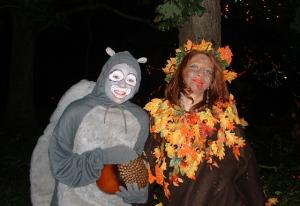 Saturday, October 14, 2017
4-9 p.m.
Lakeside Nature Center in Swope Park
$5/person; $25/family
Magic Woods brings enchantment to nearly a thousand visitors each fall.  Mother Nature sprinkles them with 'fairy dust' so they understand the language of the animals.  After watching skits detailing wildlife, visitors enjoy the Center, munch on popcorn and hot chocolate; crafts, face painting and tattoos round out the experience.  The animals are portrayed by young actors from the Coterie Theater. Eco-Elvis and Eric the Magician will also be there.
Check our website at www.lakesidenaturecenter.org
---
Parks:
---
Facilities: