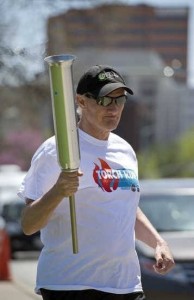 Friday, April 7, 2017
11 a.m.
Ilus Davis Park
The event will begin with a brief Torch Lighting Ceremony at 11 a.m., including speakers from the Show-Me State Games and Shelter Insurance, as well as City Council member Jermaine Reed and KC Parks Commissioner Mary Jane Judy.  Kansas City residents will run the torch about 1 mile around the Park.
The Show-Me State Games is an annual Olympic-style sports festival offering more than 40 sports for Missourians of all ages and ability levels, taking place June 16-18, July 21-23 and July 28-30 in Columbia.   The torch will be traveling across Missouri during the months leading up to the GAMES .
If you are interested in running or cheering on the runners, please email peurrunge@missouri.edu
---
Parks: