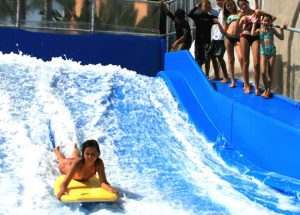 This summer, Kansas City will become the second city in Missouri to have a FlowRider surfing simulator in a municipal water park.  The FlowRider – aka BayRider— is scheduled to open Memorial Day weekend at The Bay Water Park in south Kansas City.
Flowriding is not just a ride, it's a sport that has the look of surfing, the ride of snowboarding, the tricks of skateboarding, and boards derived from wakeboarding.  Since the early '90s, the world's best board riders have cross pollinated into flowboarding. This new alternative board sport is taken seriously all across the U.S.
The FlowRider generates a thin sheet of water that flows over a stationary wave form. The resulting "wave-like" shape permits rider to slide down, carve a turn, and ride the wave surface, emulating the maneuvers of other board sports.
Boardsports such as surfing, snowboarding, skateboarding and flowboarding are skill-based activities that challenge riders to develop new tricks and techniques.  From beginners to advanced riders, the adrenaline rush of successful challenges met inspires riders to new levels of achievement.
The FlowRider Single Specs:
Size~22′ wide x 49′ long
Capacity~160-240 riders per hour
Weight~350,000 lbs
Tank Volume~40,000 gallons
Be among the first to experience the FlowRider in Kansas City, Missouri by purchasing a season pass to The Bay today!