The $15 million, 19,060 square foot  Helzberg Penguin Plaza opened last month at the Kansas City Zoo in Swope Park.  Here are some facts about the Zoo's newest attraction: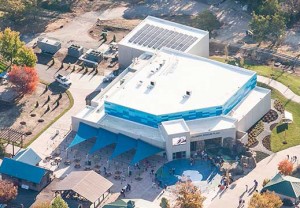 Funded by a private donation from the Helzberg Family; a $1 million lead gift from the Junior League of Kansas City, Missouri in honor of their 100th anniversary; contributions from the Zoological District consisting of Jackson and Clay Counties in Missouri; and the diligent efforts of Zoo fans young and old, who gave up birthday gifts, collected pennies and wrote letters to bring penguins to Kansas City.
Helzberg Penguin Plaza houses four different species of penguins from the South America and Antarctic environments:  King, Southern Rockhopper and Gentoo along with the temperate penguins, Humboldt.
All penguins are banded and micro-chipped to give each penguin a distinct identification that will be used to make sure each bird is receiving enough food and nutrients each day.
Each penguin will eat three times per day which amounts to more than 50 pounds of fish each day.
Breeding of the penguins will be controlled by the Species Survival Plan (SSP).
The Junior League of Kansas City Missouri Penguin Ice Paradise is a 2,853 square foot exhibit with a 45 degrees air temperature. More than 30 birds live in Penguin Ice Paradise:  King, Gentoo and Southern Rockhopper penguins. These cold weather birds eat 50 pounds of herring and of capelin each day.
Special filtration has been provided for the cold penguin exhibit to control airborne pathogens and provide odor control.  Their swimming area holds over 100,000 gallons of salt water.  This saltwater is made in batches of 15,000 gallons at a time.  It cycles through a Life Support System (LLS) every 27 minutes at 945 gallons per minute.  The used saltwater is recycled to conserve fresh water and salt. This used water is routed to holding basins that clean, disinfect store and then pump the refreshed water back to the exhibit.  It took 12 tons of salt to make the water.
Despite the state-of-the-art filtration system, Zoo Keepers must still manually scrub the exhibit surfaces and windows daily and must all be SCUBA certified for the underwater portion of the cleaning. An above catwalk supports 28 metal halide and 22 LED flood lights programmed to simulate the Southern Hemisphere light cycle and providing necessary UV for penguin health.
Two ice flake machines located on the catwalk will produce 3" of snowflakes per day. A gift from the Dixon Family Foundation, these machines will create 4,000 pounds of snow every 24 hours.  Each day, Zoo Keepers will remove the dirty snow and spread the new snow spread throughout the exhibit.
Delicately designed ice formations provide a variety of above- and below- water features including an ice bridge, tunnels and pop ups for penguins to torpedo through and over.  Their antics will mesmerize guests for hours.  This Penguin UnderWater Adventure was funded by The Sunderland Foundation.
The Sea Ice Vista funded by UMB Bank and the Affiliated Trusts, Carter Community Trust, Geraldine & RA Barrows Foundation and the Wornall Foundation, allows an education moment about the importance of sea ice.
A stroll down the Sea Ice Vista lands families at the Penguin Chase, a gift from the Dixon Family Foundation.  This interactive adventure has guests flying through the icy ocean waters chasing Southern Rockhopper penguins out of view.  Projected from the ceiling, images of rockhoppers move across the "ocean" floor while children wave their arms scattering the penguins away.
The entire cold water penguin flock will coexist until breeding season when they will want more privacy. For this, nest boxes are provided in the exhibit for privacy.
Penguin Coast, Funded by Wagner Family Foundation, is home to temperate penguins. The Humboldt penguins live in a 1,852 square foot warm exhibit environment at a temperature of 50 to 80 degrees.   More than a dozen Humboldt's can be found waddling on a sandy beach and resting on the rocks.  As a group they eat 20 pounds of smelt, capelin and herring each day.
During warm months the temperate penguin exhibit is open to the outdoors via a folding window wall.
Two underwater doors will open to allow these black and white birds to swim from indoors to outdoors.
Eight nesting boxes are partially concealed in the rockwork and will provide cozy burrows for the temperate penguins.
Cool School, Funded by the Courtney S. Turner Charitable Trust, is a 1400 gallon schooling fish aquarium with silver False Herring.
Ocean Garden holds 3,200 gallons of water and is home to over 26 varieties of exotic tropical fish.  Here you can find the bright orange clown fish (Nemo) and the stunning blue tang fish (Dory).
Coming SOON: Magical Moon Jellies, funded by JE Dunn Construction Company.
Polar Ice Station is a 530 square foot classroom funded by The Edward G. and Kathryn E. Mader Foundation.
Aurora Australis is displayed via lighting effects in the entry way rotunda.  Aurora Australis are the southern lights which are caused by the passing solar wind in the atmosphere of the southern polar region and then captured by the earth's magnetic field. These solar winds interact with the gases in the southern atmosphere producing dazzling display of lights in the form if wisps, pillars, streaks and halos.
A large LED display board dubbed PenguinTron located above the entry provides a variety of exciting visual images, live-feeds of the exhibit and educational videos.