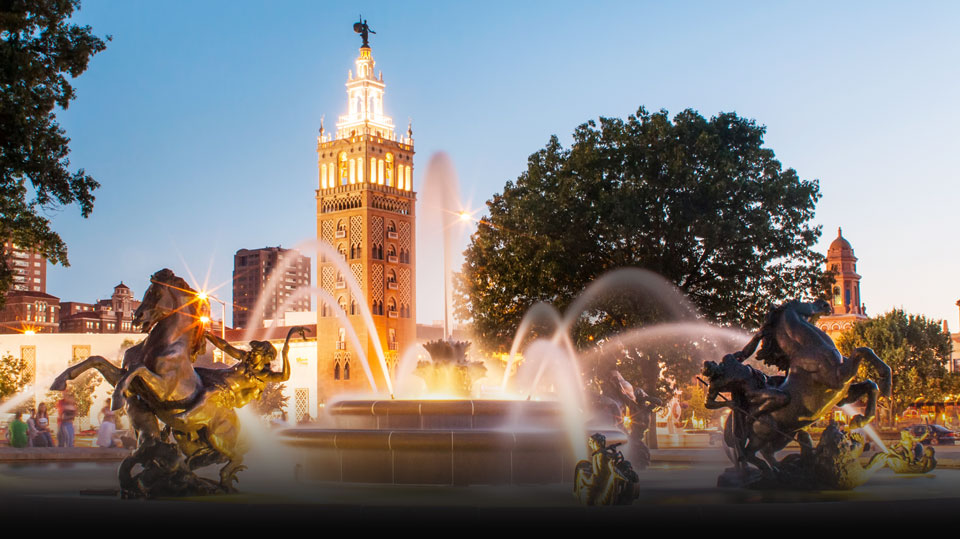 Just in time for Fountain Day, the City of Kansas City, Mo.'s quintessential J.C. Nichols Memorial Fountain will receive a major upgrade. Grundfos, a global pump manufacturer, performed an energy audit on the fountain to identify its most efficient solution and donated a new, energy-efficient pump. The City estimates that the new pump will use 60 percent less energy than its predecessor and save the City about $10,760 in annual energy costs. The pump's installation will take place Wednesday, March 26 at 9 a.m.
"Thanks to Grundfos' donation, the City can continue to maintain Kansas City's best known and most photographed fountain," said City Manager Troy Schulte. "The new pump presents both energy and cost savings for the City, and we appreciate the energy audit because we are always working to be more efficient with City services."
A 25 horsepower, variable speed, MLE motor will replace the old 75 horsepower motor without sacrificing the required pressure or flow. The new motor is capable of fine-tuning the flow based on demand, and the control makes it possible to save energy by shutting the fountain off overnight. To ensure that the fountain continues to operate correctly, the City will be able monitor its performance remotely. The new system serves 100 percent of the demand using one third of the energy.
The installation will be complete by Fountain Day on Tuesday, April 8. A celebration unique to Kansas City, Fountain Day marks the occasion when the City turns on its 48 public fountains, including the J.C. Nichols Memorial Fountain. This year's Fountain Day event will take place on April 8 at 11 a.m. at the Eagle Scout Memorial Fountain at 39th and Gillham streets.
The J.C. Nichols Memorial Fountain is located at the Country Club Plaza's east entrance. Its figures were sculpted by Henri Greber in 1910 and originally resided in a private mansion on Long Island. It was brought to Kansas City in 1951, refurbished and dedicated in 1960. The fountain features four heroic horsemen, which are said to represent the four rivers of the world: the Mississippi River, the Volga River, the Seine and the Rhine.
Grundfos donated the energy audit and pump to the non-profit City of Fountains Foundation, as part of the foundation's Wish Upon a Fountain Campaign. The foundation's goal is to generate $2.5 million in donations and pledges to restore eight fountains deemed in critical need of major repairs, and to preserve and endow the City's 48 fountains, all of which need, or will soon need, repairs and upgrades that exceed the City's limited maintenance budget.
Grundfos is a Denmark-based pump manufacturer with U.S. headquarters in Greater Kansas City. It has provided energy efficient solutions to Sporting Park, Kauffman Stadium, the Kauffman Center of Performing Arts and more. Last year, Ingram's Magazine named Grundfos one of the top 100 privately held companies in Kansas City.