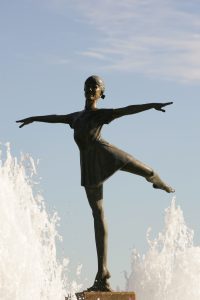 WHO
Anticipated attendees and presenters:
Sly James – Kansas City Mayor
Mark McHenry – Director, Kansas City, MO Parks and Recreation
Jean Paul Chaurand – President, Kansas City, MO Parks and Recreation
Charles S. Cassias, Jr. – President, The City of Fountains Foundation
 Children from a nearby daycare center will also attend, in the spirit of The Children's Fountain and all it symbolizes, to sing a song. The general public is welcome to attend.
WHAT
Fountain Day marks the official day when all 48 of Kansas City, Missouri's public fountains will open and water turned on.
WHEN
11 a.m. on Tuesday, April 9, 2013
WHERE
The official Fountain Day event will happen at 11 a.m. at the Children's Fountain, located in Waterworks Park, N. Oak Street at NE 32nd Street. Fountain Day officially launches at a different Kansas City, Missouri fountain each year.
The Children's Fountain was turned on June 21, 1995 and was designed to celebrate the happy, playful spirit of children. Local sculptor, Tom Corbin used six Kansas City children as models to create the six eight-to-nine-feet-tall figures featured in the Children's Fountain. The Children's Fountain dedication plaque reads, "The bronze figures represent children everywhere to whom this fountain is dedicated and the activities that shape young lives making childhood a joy." 
WHY
Celebrate Kansas City, Missouri's beautiful fountains springing back to life and the official start of this year's fountain season. Fountain Day is a holiday that's unique to Kansas City, showcasing one of the most beautiful aspects of our city.