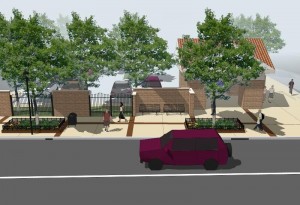 WHAT: Media availability and photo/video opportunity during a groundbreaking ceremony celebrating the commencement of improvements to the Emanuel Cleaver II Boulevard streetscape between Rockhill Road and The Paseo.
WHO: Anticipated attendees and presenters include:
Jean Paul Chaurand, President, Board of Parks and Recreation Commissioners
Mark L. McHenry, Director, City of Kansas City, Missouri Parks and Recreation
Emanuel Cleaver II ,U.S. Congressman, Fifth District-Missouri
Jermaine Reed, City Councilman, Third District
Ollie Gates, former Parks Board Commissioner
WHEN: Friday, March 22, 10 a.m.
WHERE: NW Corner of Forest Avenue & Cleaver Boulevard, Kansas City, Missouri. Please park in the vacant lot across Forest Avenue.
MORE: Emanuel Cleaver II Boulevard Streetscape Improvements between Rockhill Road and The Paseo include:
Mill, overlay and re-stripe lane configuration, adding bike lanes
New curb and sidewalk
New street lights and pedestrian lights
Decorative stamped concrete crosswalks at Troost, and at Tracy
Stormwater planters, street trees and other landscaping from Harrison east to The Paseo
New semi-custom Bus Shelters, with solar powered LED lighting, in 3 locations