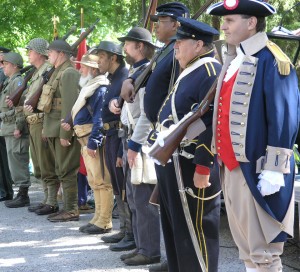 Please join the Union Cemetery Historical Society and KC Parks on Monday, May 27, for an old-fashioned Memorial Day service.  The thirty-minute ceremony will be held at the flagpole in the middle of Union Cemetery, Kansas City's oldest public cemetery, at 11:30am.  Participants in this tribute to those who have served our country include local Cub and Boy Scouts, re-enactor groups, local politicians and others.  A cookies and lemonade reception will follow the ceremony, hosted by the Civil War Roundtable of Western Missouri.
Contact:  Kevin Fewell , 816-225-8130, fewell2@yahoo.com
More about Union Cemetery.
Union Cemetery Historical Society website, http://www.uchskc.org/welcome/index.html