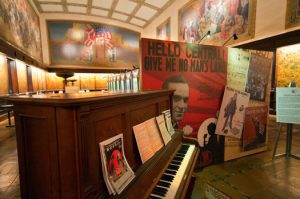 "Harmonies of the Homefront" on exhibit through October 27, 2013
For Americans at home during the Great War, singing was a means of actively expressing patriotism in private and public settings. The National World War I Museum at Liberty Memorial explores music of the World War I era in a new exhibition called "Harmonies of the Homefront."
The exhibition, located in Memory Hall, runs through October 27 and is included with admission to the Museum and free for members.
The pages of sheet music, which are part of the Museum's extensive collections, are brought to life in this multimedia exhibit. Visitors will view artistic sheet music covers and humorous lyrics, hear historical recordings and even have the chance to try out a few of the big "hits" of the era on a period piano.
Guest exhibition curator Dr. Kristin Griffeath is an Assistant Professor of Music at Southwestern Oklahoma State University. Her recent research involves sheet music from World War I, and her thesis, "War Sirens: How the Sheet Music Industry Sold World War I," earned the 2012-2013 Distinguished Master's Thesis Award from UMKC.  Griffeath explains what she hopes guests will take away from the exhibition:
"My hope is that people coming to this exhibit will gain a sense of who these Americans were. The songs echo across the almost one hundred years that separate these Americans from our generation, telling us why they fought, demonstrating how they maintained a sense of humor and patriotism in a time of great sacrifice and challenge, and voicing their concerns about how the war had changed the men and women who would return home. I can think of no better way to connect the iPod generation to this American history than to literally let them plug into and listen to the songs of the war."
The History of World War I Music
Joining voices around a piano at home or singing along to a recording of world-famous opera singer Enrico Caruso's rendition of "Over There" bolstered morale and helped people feel connected to the soldiers who had left them behind.  Sing-alongs were also used to energize Liberty Bond rallies and other public gatherings. Classical concerts were peppered with nationalistic tunes, and it became nearly impossible to attend a musical event without encountering war music of one kind or another.  Music bound the nation together in support of the war, critical to building and maintaining energy for the continued sacrifices the war would entail.
More than 35,000 copyrighted musical works document the conflict, lending credence to American composer Irving Berlin's claim that "the history of America could be traced through its music."  The history of World War I is told in the thousands of songs that accompanied the fighting.  The titles, lyrics and sheet music cover images highlight the American experience of the war from both civilian and combatant perspectives.
For more information on the National World War I Museum at Liberty Memorial visit their website.