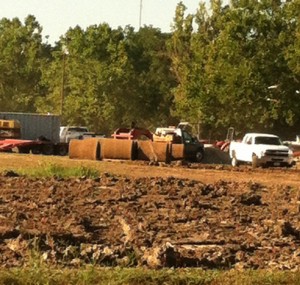 Over 99,000 square feet of Colorado bluegrass sod will be laid in the next 48 hours for the Championship Field of the Swope Soccer Village Project, 63rd & Lewis Road in Swope Park.
This is the first grass to be laid on the very first field of the project, which upon completion will encompass six new soccer fields and facilities. The complex will initially play host to the 2013 Big 12 Women's Soccer Tournament (BUY TICKETS NOW) November 6,8 and10 and, upon completion, be available to Kansas City soccer leagues and tournaments.
The project partners for the multi‐million dollar complex include City of Kansas City, Missouri; Kansas City Parks and Recreation and operator, Soccer Village Properties. Additional funds were also provided by Jackson County.
FUN FACTS
99,500 square feet of special sand-based bluegrass sod was shipped overnight from Colorado in refrigerated trucks
It will be laid over 8,080,000 pounds of a special sand blend
5,000 linear feet of field drainage pipe ranging from 4" to 24" in diameter and 7,300 linear feet of pvc irrigation pipe are required for field maintenance
Laser guided bulldozers able to grade earth to a ¼" tolerance and special tractors to a
1/8" tolerance (about the same as 2 quarters stacked together) aligned the field
Championship Field constructed in under 120 calendar days
Process of laying the sod began at 6 a.m. Wednesday and will continue through Thursday afternoon
 View a video from the City's Weekly Report about Swope Soccer Village.