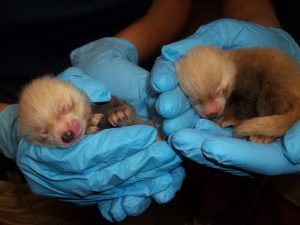 More adorable than you can imagine! Smaller than a can of soup and hungrier than a lion on the hunt! Two red panda cubs were born at the Kansas City Zoo on June 26. Dad Fagan and Mom Gaila are proudly keeping them close for warmth and feeding. But Zoo guests can see them in the nesting box via a TV monitor at their exhibit on Tiger Trail.
Adult red pandas are about the size of a house cat. These male cubs weighed in at only around 4 ounces one day after birth. Youngsters generally stay in the nest for about 90 days and will remain very close to their mother to nurse. Adult size will be reached at about 12 months. To ensure the cubs are healthy and growing properly, they are weighed weekly. At their two week check-up they more than doubled in size!
Two-year-old Gaila came to us from the National Zoo at age one. It was recommended by the Red Panda SSP (Species Survival Program) that Gaila breed with 13-year-old Fagan. Fagan has been at the Kansas City Zoo for 12 years and a father one other cub born in 2006. Cubs are extremely important to the populations of red pandas. There are only 116 red pandas in captivity in the United States Red pandas are finicky about their environments. Originally from the cooler climates of eastern the Himalayas and Southwestern China, their indoor exhibit is kept at 65 degrees to mimic these temperatures. In the winter time they move to an outdoor exhibit to enjoy the cooler Midwestern weather.
Zoo Guests can view the red panda cubs via TV monitor at the exhibit whenever the Zoo is open.
The Kansas City Zoo, a private, non-profit organization, is operated in agreement with the Kansas City, MO Board of Parks and Recreation Commissioners, partially fund by the Zoological District and is accredited by the Associations of Zoos and Aquariums.