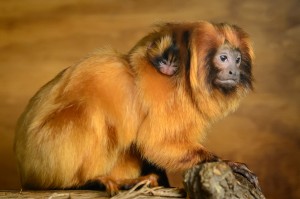 Can you spot the newest and tiniest member of the golden lion tamarin troop? Born on July 31, this two-week-old monkey joins the family of four golden lion tamarins at the Kansas City Zoo.
Although this baby tamarin is already on exhibit, he may be a bit hard to find. The youngster will "hang" out on his mom or dad's back for the first couple months, looking like a tiny golden backpack. Dad will carry the baby most of the time and hand it off to mom for nursing. It won't be long before this baby is swinging and jumping from tree limb to tree limb just like the rest of his family. This latest offspring is the third born to this adult golden lion tamarin couple; they were recommended for breeding by the Species Survival Plan (SSP).
Golden lion tamarins are small orange-yellow monkeys, weighing around a pound at adulthood. They are an endangered species: only around 1,500 golden lion tamarins live in the wild. Primarily inhabiting the Atlantic coastal forest of Brazil, they feast on fruits, insects, and small lizards.
See this tiny golden bundle of joy in the golden lion tamarin exhibit located in Tropics.