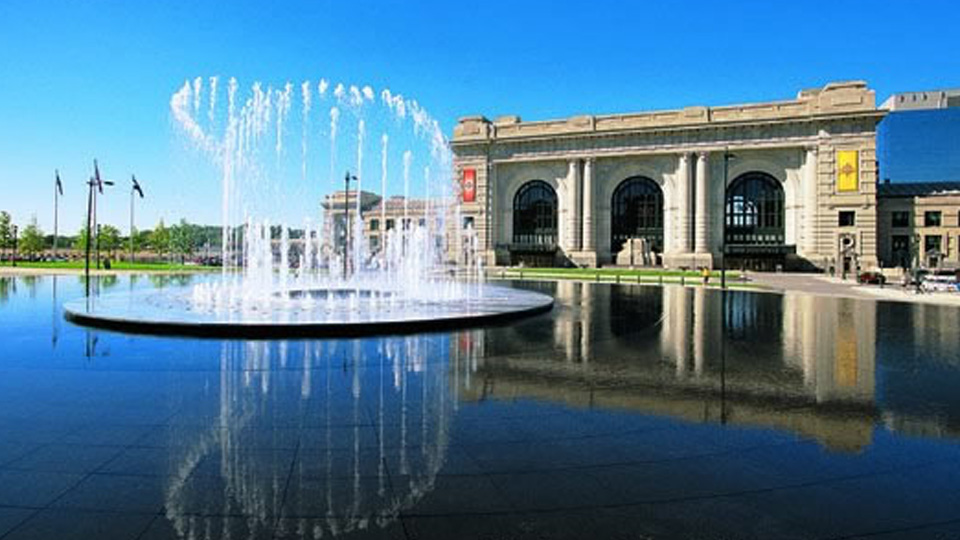 On Sunday, June 9, Kansas City visitors and families will have a unique opportunity to learn about the fountains that make our city special.
The KC Festival of Fountains will take place at the Bloch Fountain in front of Union Station from 11 a.m. until 5 p.m.  To celebrate its 40th anniversary, the City of Fountains Foundation has organized this first-ever event, designed to showcase local fountains and encourage contributions for several that need immediate repairs.
Preceding the Festival, hundreds of bicycle riders from all over the metropolitan area will participate in Ride the Fountains which, this year, begins and ends at Union Station. The ride includes 10, 24, and 46 mile routes to accommodate all levels of cyclists.  Be sure and register by April 24 to secure a pair of commemorative Ride the Fountains 2013 cycling socks. Following the ride, the Good Sam Club Band will hit the stage for an after bike ride party.
At 1:30 p.m., a marching band will herald a special ceremony that will include a brief history of the City of Fountains Foundation, introduction of guests and recognition of Festival sponsors and contributors. Plans for the day include trolley rides that will leave the Station every 20 minutes taking visitors on guided tours to many Kansas City fountains. Vendors will offer food and drink. Activities include a mini fountain model building with Legoland, the Zoomobile, photo booth, and a powerpoint show of Kansas City fountains. Children will enjoy a Fountains Activity Book designed by a local teacher especially for the occasion, as well as an entertainment stage featuring youth dance groups and local musicians.
With the help of many contributors and volunteers, The City of Fountains Foundation plans to introduce visitors at the KC Festival of Fountains to the beauty of our fountains and the need to assist KC Parks in their efforts to maintain them for all to enjoy.