2022 Black History Month
#KCParks celebrates #BlackHistoryMonth by featuring our black Parks Board Commissioners and highlighting our system's history, attractions and partner organizations.
Chris Goode is a Parks Board Commissioner who was appointed by Mayor Quinton Lucas and served from 2019-2021. Chris Goode is the Founder of Ruby Jean's Juicery based in Kansas City, MO. He is a passionate entrepreneur who started his company in 2015 to honor the early death of his Grandmother Ruby Jean, who fought a short-lived battle with Type 2 diabetes. He adamantly believes had his grandmother had the knowledge of juicing and a healthy lifestyle that she'd still be alive.
He has made it his life's work to educate youth and communities and integrate the juicing culture in his hometown by locating the flagship Ruby Jean's in a food desert he grew up near.
---
Mary Williams-Neal is a current Parks Board Commissioner appointed by Mayor Quinton Lucas in 2019. Mary Williams-Neal is the Founder/CEO of the Get Ahead Club since 1998. She is a former 3rd District City Councilwoman (1995-2003). Ms. Williams-Neal attended UMKC, Gates Rib Tech and Harvard University. She is a member of Village Presbyterian Church, and is focused on family and community engagement.
---
Shannon Cade was born in Kansas City, Missouri. She graduated from the University of Missouri n 2003 summa cum laude. She obtained her law degree from Northwestern University in 2006, also earning high honors, graduating cum laude. After graduation, she moved east and practiced law in New York State.
Coming back to the Kansas City area where her family lives, today she is a practicing attorney specializing in employment and employee benefits.
In 2017 she was appointed to the Kansas City Board of Park and Recreation Commissioners by Mayor Sly James. She left the Board in October 2019 following the election of Mayor Quinton Lucas.
---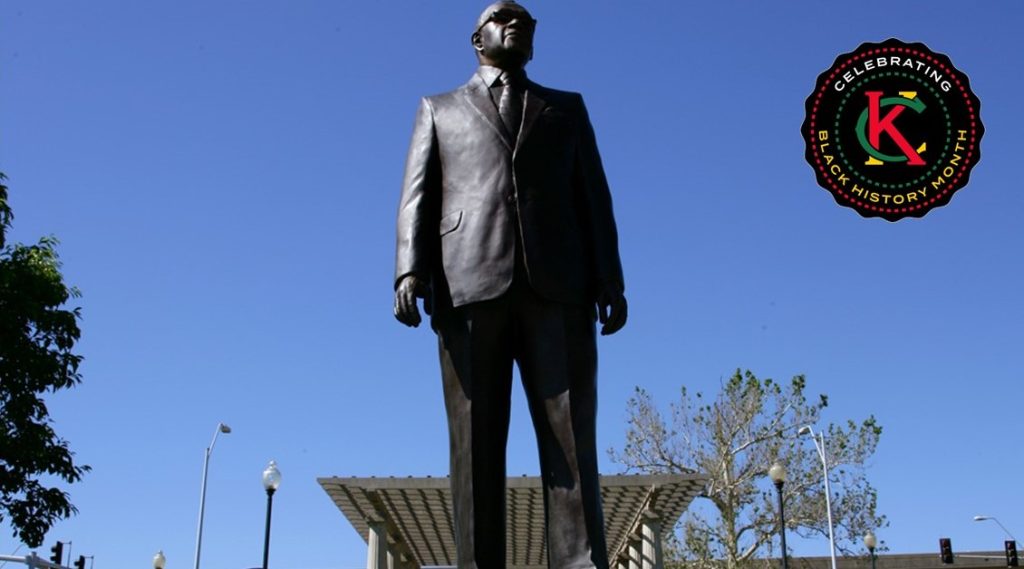 Rev. John W. Williams Memorial
Artist: Tom Corbin
Medium: Bronze
Dedicated: August 25, 1991
Description: Seven foot monumental bronze of the Reverend John Wesley Williams, civil rights activist and pastor of St. Stephen Baptist Church, Kansas City, Missouri from 1944 to 1983. The statue of Reverend Williams wearing a coat and tie sits on a granite slab atop a truncated pyramid made of limestone. The base contains bronze tableture memorializing Reverend Williams. A limestone wall is located behind the statue which sits in a landscaped semi-circular feature area that contains concrete pavers and benches nearby. Tom Corbin, noted Kansas City sculptor, was selected in a national competition to sculpt the statue. Reverend Williams' widow was so moved by Mr. Corbin's clay bust of her husband that was submitted to the selection committee that Mr. Corbin's selection was unanimous. More>>
---
Amber Hackett Crosby, who served on the Kansas City Missouri Board of Park Commissioners from 2014 until 2016, was originally from Corpus Christi, Texas. She received a B.S. in Communication Studies from the University of Texas of Austin in 2002 and earned her J.D. at the University of Oklahoma College of Law in 2007, where she served as the Vice-Chair of the National Black Law Students Association.
Ms. Crosby moved to the Kansas City area after receiving her law degree and practiced law with a local firm. She began working in the non-profit sector in 2011, while continuing her legal career. At the time of her appointment to the Kansas City, Missouri Board of Parks and Recreation Commissioners in October 2014 by Mayor Sly James Ms. Crosby was director of corporate and community relations at the Boys and Girls Club of Greater Kansas City. She replaced McClain Bryant on the Board; Ms. Bryant left to join the mayor's staff. Ms. Crosby was nominated for the Board appointment through the Mayor's Women's Empowerment (WE) Initiative to include more women in positions of leadership in city government.
After leaving the KCPR Board in 2016, Ms. Crosby moved to Texas where she handled legal issues of the Texas Independent Auto Dealers Association. In 2018 she was hired as Deputy Director of the Center for Women in Law, an educational institution at TexasLaw devoted to the success of the entire spectrum of women in the legal profession, while continuing to practice law primarily in Austin.
---
Benches of Honor
Honoring members of the Spirit of Freedom Fountain and The Enshriners with the installation of commemorative benches in their memory. The benches are located along Brush Creek at Lake of the Enshriners, Enshriners Plaza, the Spirit of Freedom Fountain and at the Bruce R. Watkins Cultural Heritage Center.
---
McClain Bryant Macklin served on the KC Parks and Recreation Board from 2011 – 2014. She was born and raised in Kansas City, Missouri. Her father, Mark Bryant, also an attorney, served on the Kansas City City Council from 1983-1991 and as President of Freedom, Inc. Her mother Rosemary Batey worked with neighborhood associations.
McClain Bryant Macklin has a M.B.A. from Florida A & M University and a J.D. from The George Washington University Law School.
In 2011, as a practicing attorney with local law firm Husch Blackwell, she worked to raise funds for the election of Sly James as Mayor and, after his successful election served on his transition team. Mayor James appointed her to the Park Board June 2011. She resigned from the Board in 2014 to serve as Director of Policy for the Mayor where she worked with a variety of policy issues such as economic development, housing, technology, innovation, workforce development and entrepreneurship, and worked with city staff and community organizations to implement the policy interests of the Mayor.
Ms. Bryant Macklin has served on many boards of organizations designed to help others. She was the Director Policy and Research at Civic Council of Greater Kansas City. In 2020 she became a Director of Policy and Strategic Initiatives for the Health Forward Foundation and in 2021 she was appointed to the Network for Public Health Law National Advisory Board.
---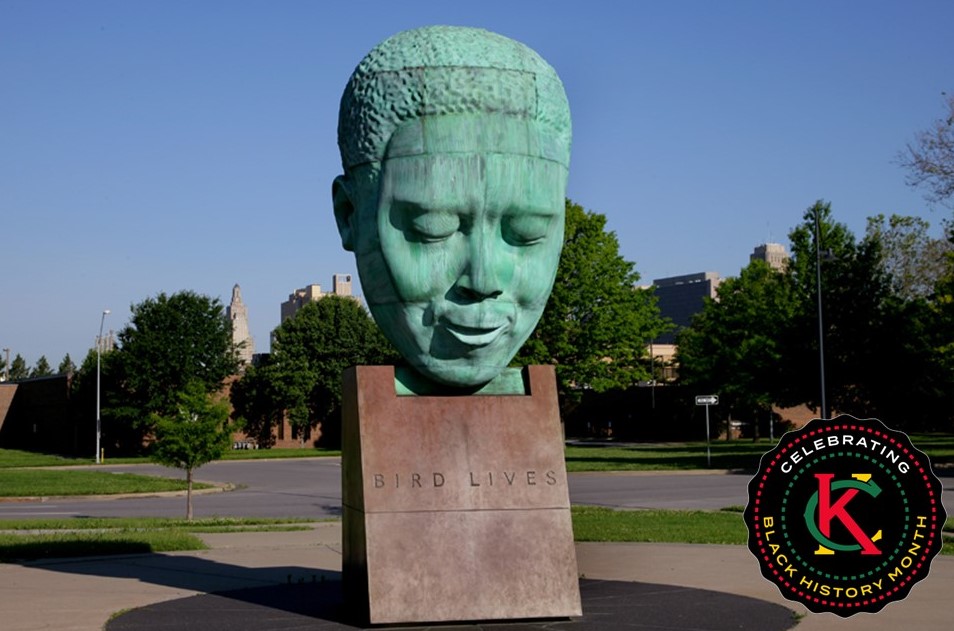 Charlie Parker Memorial–BIRD LIVES
Artist/Designer: Robert Graham
Dedicated: March 1999
Description: Large face of Charlie Parker. Green patina on face. Trapezoidal base with brown patina. "Bird Lives" inscription on base. The face was not cast but was pieced together in a grid-like pattern.
This sculpture memorializes legendary jazz artist Charlie "Bird" Parker. He was a major part of the Kansas City jazz scene and culture. It is located in the middle of a plaza, also named after Parker, in the historic Jazz District and just west of the American Jazz Museum at 18th and Vine Streets. More>>
---
Ajamu K. Webster was appointed to the Board of Kansas City Parks and Recreation Commissioners in 2007 by Mayor Mark Funkhouser. He served on the Board until 2011.
Mr. Webster is originally from Los Angeles, California. He obtained a BS in Civil Engineering from the Southern University of Baton Rouge in 1980 and later a Master of Science in Civil Engineering from the University of Missouri.
Upon coming to Kansas City after graduation from Southern University, he worked for both Butler Construction Company and Burns and McDonnell before starting a company with two other people he met while all were volunteer tutors at the W.E.B. DuBois Learning Center. The company, DuBois Consultants, Inc. opened in 1988 with focuses on civil and structural engineering. Mr. Webster is presently the president of the company.
Mr. Webster actively supports causes in which he believes and doesn't sit idly by. He was an outspoken critic of the plan endorsed by the Kansas City School District for desegregation of public schools. He was a co-founder of the Kansas City chapter of the Black United Front in 1981 and served as its President/Chairperson for 37 years, until 2018. The group encourages economic development in the black community, supports education involving black culture and history, and also focuses on combating racism and political oppression.
Mr. Webster was appointed by Mayor Sylvester James to serve on the Kansas City Economic Development Corporation Board. He has also been deeply involved in the creation of the WeDevelopment Credit Union, devoted to serving inner-city residents.
---
"The Foursome" was a group of four African-American men who broke the color barrier at public golf courses in the Kansas City area. In March of 1950, after years of being told they were not allowed to play due to the color of their skin, George Johnson, Sylvester "Pat" Johnson, Reuben Benton, and Leroy Doty laid their green fee money on the counter at Swope Memorial Golf Course and headed off to the first tee. After play, slashed tires and broken windows caused the men to bring in a fifth man to stand watch over their cars as they played the front nine. The man with the highest score would then stand guard during the back nine play. Eventually, other black golfers came to play and the public golf courses in Kansas City were integrated. More via links below.
FOX 4 Story>>
KC Star article, Playing Through>>
---
Tyrone Aiken has a background that is different than other Kansas City Park Board Commissioners. Mr. Aiken, who was a Commissioner from 2007 until 2011, has been involved in the arts community from the time he was a child. He trained as a dancer in arts-related schools in New York. As an adult he has been deeply involved with the Alvin Ailey organization and the Kansas City Friends of Alvin Ailey in several capacities for over 20 years. When he and others were appointed to the Board in 2007 by Mayor Mark Funkhouser, the Mayor emphasized that he wanted to place people with diverse backgrounds on the Board.
Mr. Aiken grew up in Amityville, New York, the ninth of 16 children. He was dependable and organized even as a child, enjoying the feelings of responsibility and leadership. After receiving a Certificate in Dance from The Ailey School in New York City, he danced with several companies and created and worked on choreography. While living in the East, he also taught dancing and was a founder of the Ethos Dance Company in New York.
In 1995, he moved to Kansas City to become the Director of Artistic and Educational Programs with the Kansas City Friends of Alvin Ailey group. His planning and success with the program AileyCamp brought much positive recognition to the camp's education of children on health, family and self-esteem, along with the importance of physical exercise. His abilities in teaching and connecting positively with both children and adults have brought him much praise. Mr. Aiken became the Executive Director of the Ailey group in 2006 and the Chief Artistic Officer in 2015. He has also worked with several other arts groups including the Kansas Arts Commission, the Missouri Arts Council, and the National Endowment for the Arts.
---
KC Melting Pot Theatre creates thought provoking, professional productions that reveal the rich contributions that African Americans have made to the theatrical tradition in the United States. KCMPT is the anchor production company for Just Off Broadway Theatre in Penn Valley Park. Catch their latest production, Barbecue, which runs through February 19. More>>
---
William Montell Washington graduated from Lincoln University in Jefferson City, Missouri. He began teaching mathematics and coaching sports at Manual High School on Truman Road in Kansas City in 1964. In 1967, he was appointed as associate director of the Urban League of Kansas City and headed the education and youth incentives program. The Urban League was and is focused on elimination of discrimination because of race or other reasons and coordinates programs for education and training to help build better futures for those in need.
Mr. Washington held other positions with the Urban League (Director of Education, and Director of Economic Development and Employment for minorities) until 1971 at which time he was hired by Kansas City company United Utilities, Inc. as Equal Employment Opportunity Administrator. United Utilities became United Telecommunications, Inc. United Telecom eventually evolved into the company Sprint, Inc. and Mr. Washington continued working for them. In 1980 he was elected as a corporate officer of the company as Corporate Affirmative Actions Officer.
As his responsibilities with United Telecom/Sprint expanded, he was also involved with several local charities and social groups and served on the Boards of the YMCA, the Greater Kansas City Regional of the National Conference of Christians and Jews, the Boys and Girls Clubs, Research Medical Center, and the Swope Community Enterprises, and the United Way. He is also a Chairman of the Black Community Fund and is a member of the Enshriners, a group of business people who have been supportive of several Kansas City-related promotional activities such as the Spirit of Freedom Fountain, Satchel Paige Stadium, the Bruce R. Watkins Cultural Heritage Center and more.
Mr. Washington was appointed to the Board of Kansas City Parks and Recreation Commissioners in February 2000 and served until 2007.
---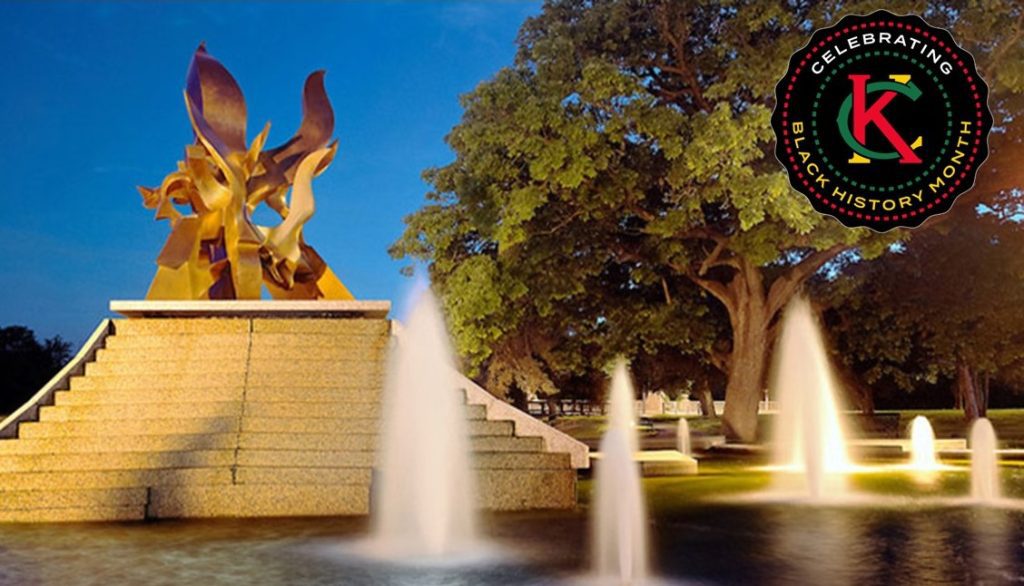 Spirit of Freedom Fountain, Emanuel Cleaver II Blvd at Cleveland Ave.

Artist/Designer: Richard Hunt

Description: A 5,000 lb. metallic free form sculpture sits on a pedestal in the middle of a retaining pool – elliptical in shape with raised platforms that support the sculpture. Water pours from the base of the platform and there are six clusters of water jets in the interior of the basin.

Inscription: Richard, Hunt, Sculptor. This work was inspired by civic and community leader Bruce R. Watkins, March 20, 1924-September 13, 1980. Dedicated September 13, 1981.
In 1977, City Councilman Bruce R. Watkins organized the Spirit of Freedom Foundation to develop a monument to the contributions of African-Americans in Kansas City. Richard Hunt, a black Chicago sculptor, presented an abstract model to reflect the symbolic nature of the subject. He also noted that it was in keeping with the improvisational aspects of Kansas City jazz. The fountain was dedicated in 1981 exactly one year after Watkins' death.
---
Karen Daniel, who served on the Board of Parks and Recreation Commissioners from 1999 until 2003, is from Kansas City, Missouri. She attended Southeast High School and showed proficiency in math. Graduating from Northwest Missouri State University in 1980 with a degree in accounting, she also attended the University of Missouri-Kansas City and received a Master's Degree in Accounting.
After working her way up at KPMG Peat Marwick Certified Public Accounting firm first as an assistant accountant to a Senior Audit Manager, she went to work at Black and Veatch in 1992. She was named the Chief Financial Officer in 1999 and Executive Vice President. Ms. Daniel joined the Black and Veatch Board of Directors in 2006.
In 1999, Mayor Kay Barnes appointed Ms. Daniel to the Board of Park and Recreation Commissioners citing the skills of Ms. Daniel and those of the other appointed Commissioners Tim Kristl and Bob Lewellen as bringing experience in business management, finance, and auditing. Ms. Daniel served as President of the Board from 2001 until 2003 and, during her tenure, helped lead the $80M restoration of the Liberty Memorial. She resigned from the Board in 2003.
Ms. Daniel has given much time to organizations including the Black Economic Union, the Women's Employment Network, and Junior Achievement. She served as Chair of the Greater Kansas City Chamber of Commerce from 2016 until 2017 and was an Athena Award honoree in 2020. She has served on the boards of Blue Cross and Blue Shield of Kansas City, Commerce Bancshares, Inc., Greater Kansas City Community Foundation, Northwest Foundation, Inc. of Northwest Missouri State University, and the Kansas City Campus for Animal Care, among others. Ms. Daniel was also named by President Obama as Vice Chair of the Advisory Council on Doing Business in Africa.
She was the first recipient of the Kansas City Business Journal's CFO of the Year Award; received the 2015 UMKC Henry W. Bloch School of Management Alumni Achievement Award; and in 2017 received an honorary doctorate degree from NWMSU for her commitment to education and the community.
In 2018, she retired from Black & Veatch as the Executive Director, Chief Financial Officer and President of the Global Finance & Technology Solutions Division. In 2020, Ms Daniels joined the Royals ownership group and the Board of Royals Charities.
---
Watermelon Hill in Swope Park: In the 1950s and '60s, Kansas City was a heavily segregated town. African-Americans were limited even in which city facilities they could use. For instance, black citizens were permitted to have picnics at just one spot in the city's parks system: at Shelter No. 5 in Swope Park, widely known as "Watermelon Hill." More>>
---
Ollie Walter Gates was born in Kansas City, Missouri to George Gates and Arzelia June Smith Gates in 1931. George worked in a variety of jobs until he opened Gates Ol' Kentucky Bar-B-Q at 19th and Vine in 1946.
Ollie had two older sisters, Winnifred and Gwendolyn. He attended Lincoln High School while also working in the restaurant. After graduating with a degree in Engineering from Lincoln University in Jefferson City, where he participated in ROTC, he went into the Army for two years. He came back to Kansas City and went into the family business. After his father died in 1960, he opened a jazz club named OG's on 31st Street and a Gates Bar-B-Q restaurant nearby. OG's was a popular jazz club; he sold it in 1970 to focus on the business of barbecue. He opened a Gates & Sons restaurant at 47th and The Paseo in 1970. By then, he was married with five children.
Mr. Gates continued to expand the business and emphasize a quality product, serving the food in a pleasant atmosphere and closely supervising the details of how the Gates & Sons restaurants should be run.
Upon the death of Bruce R. Watkins in September 1980, Mr. Gates was appointed to the Board of KC Parks and Recreation. Mr. Watkins and Mr. Gates were very close friends and Mr. Gates served as campaign manager for Mr. Watkins in his run for Mayor of Kansas City 1979. Mr. Gates served on the Board for eighteen years (1980-1998), serving as President of the Board from 1991 until 1998. Of particular importance to him is the Enshriners' organization. The group has given their support to several projects to benefit Kansas City – the Spirit of Freedom Fountain, the Satchel Paige Stadium, the Bruce R. Watkins Cultural Heritage Center, the John "Buck" O'Neil Research and Education Center at 18th and the Paseo, the Black Veterans Memorial, among others with Mr. Gates playing a leading role. In 2021, he was inducted into the American Royal Barbecue Hall of Fame.
---
Yvonne Starks Wilson Park in the Dunbar neighborhood (formerly known as Liberty Park) is the only park within the Kansas City park system named in honor of an African American woman. The historic park was created to provide a space for African American residents to enjoy their recreational pursuits without threat or concern of ongoing racial tensions in 1920s Kansas City. On September 11, 2018, the Board of Parks and Recreation Commissioners adopted a resolution to rename Liberty Park after former State Senator Yvonne Starks Wilson. More>>
---
Bruce R. Watkins (1924-1980) is a name known to Kansas Citians mostly for the local highway named after him and that he was involved in Kansas City politics. Most would not know that he was appointed to the Board of Kansas City Parks and Recreation Commissioners shortly before his death.
Bruce was born in 1924 in Parkville, Missouri to Bruce Riley and Olivia Hughes Riley. The family moved to Kansas City, Kansas and then Kansas City, Missouri where Bruce and his older brother Warren and sister LaVerne attended school. Olivia and her children moved to the New York area, where Bruce attended high school.
Bruce enlisted in the Army in 1943, then transferred to the Army Air Corps and trained as a navigator and bombardier at the Tuskegee Institute. Promoted to Second Lieutenant, he trained as a pilot and finished his flight training at Tuskegee a few days after World War II ended ["Racism Not for Watkins:, KC Star, Apr. 5, 1963].
Bruce moved back to Kansas City after the War where his mother OIivia had married T. B. Watkins. T. B. Watkins and his brother John established the Watkins Brothers Funeral Home in 1909. John died in 1917. T. B. Watkins was actively involved in many aspects of civic and welfare improvements for black members of the community and betterment for the entire City. He was recognized and respected as a leading figure in the black community. Bruce, his brother and sister chose to adopt Mr. Watkins' last name; both Bruce and his brother Warren kept the name Riley as a middle name. Bruce Watkins attended mortuary school in Chicago and then worked at the Watkins Brothers Funeral Home. When his step-father T. B. Watkins died in 1950, his wife, Olivia and her children including Bruce inherited the business.
Bruce Watkins lost his first race for first public office (state representative) in 1956. In 1963, he was successful in his bid for Kansas City City Council, one of the first two black members of the City Council, along with Dr. Earl Thomas. While on the Council, he successfully introduced an ordinance which prohibited discrimination in public places on the basis of race, religion, color, ancestry or national origin. In 1966, he was the first black to win a county-wide election for Jackson County Circuit Court Clerk. In 1970, Mr. Watkins was elected chairman of the Jackson County Democratic Committee.
In 1962, Bruce and Leon Jordan, a former police officer who became involved in local politics, founded Freedom, Incorporated as a "Democratic Club" [KC Times July 28, 1962, p. 3]. It focused on black involvement in politics and political offices. The organization exists today.
In 1975, Mr. Watkins was re-elected to the Kansas City City Council. He also became chairman of a group to raise money to place a fountain to honor black cultural and historical accomplishments. By late 1977 the name for the proposed fountain was called "Spirit of Freedom".
In the spring of 1979, he ran against Richard Berkley for Mayor of Kansas City. He was defeated in late March. In April 1979, he was diagnosed with lung cancer and underwent surgery and chemotherapy treatments. In June 1980, Park Board Commissioner Lee Vertis Swinton resigned from the Board to run for public office. Mayor Richard Berkley appointed Bruce Watkins to replace Swinton on the Board. Mr. Watkins attended and participated in Board meetings until August, at which time his health prevented him from attending. He died on September 13, 1980. The Spirit of Freedom Fountain was dedicated in 1981.
In 1986 a new roadway being constructed as the South Midtown Roadway was renamed as Bruce R. Watkins Drive. In 1989 the Bruce R. Watkins Cultural Heritage Center – KC Parks and Rec opened as a tribute to the legacy of Kansas City's African-Americans and as a center for artistic, cultural and social history.
---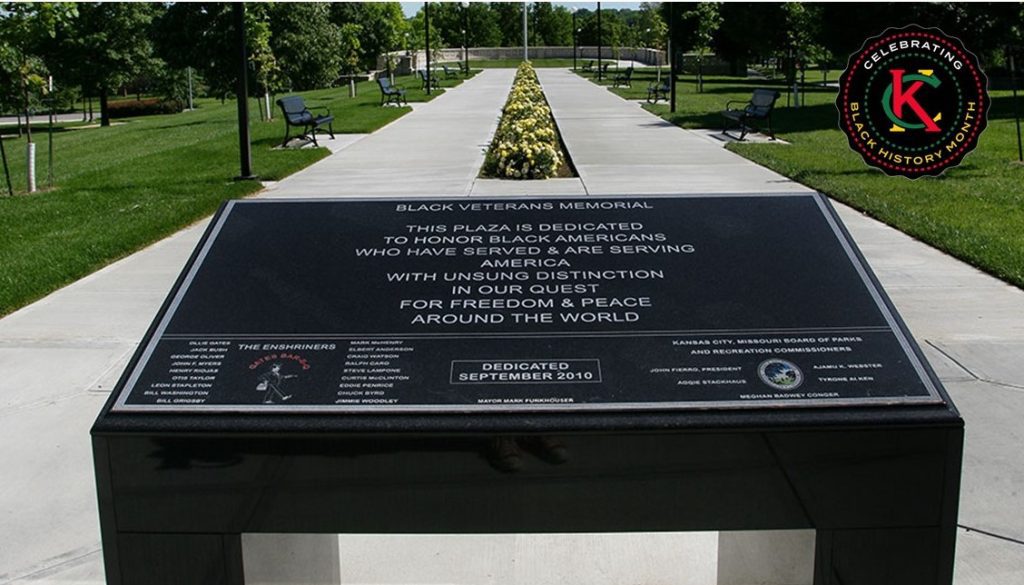 Black Veterans Memorial, 12th Street & The Paseo
Dedicated: September 2010
Designed by: Jocelyn Ball-Edson
Description: At the north end of the site a polished granite monument commemorates the service of black veterans throughout United States history. At the south end of the site, above the retaining wall of The Terrace, a large U.S. flag flies atop a 50' pole set in a granite base.
A wide sidewalk down the center of the block links the monument to the flagpole and is lined with benches and ornamental lights. This plaza space is flanked on each side with a row of oak trees, the U.S. national tree.
In the middle of the walk a 4'-wide panel will be filled out with dedicatory granite pavers, etched with the names of veterans and/or military units. These pavers are available for purchase to assist with the maintenance of the Plaza as well as offering veterans, friends, families and organizations the opportunity to honor the soldiers who fought valiantly for our nation.
---
Lee Vertis Swinton (1922-1994) was born in Dardanelle, Arkansas. Lee joined the Army at the end of 1942 and served until released in December 1945. He graduated from the Kansas State Teachers College (now named Emporia State) in 1948. He moved to Kansas City in 1950 and received a law degree from the University of Kansas City in 1954.
Mr. Swinton practiced law in Kansas City and also became very involved with issues of civil rights. He joined the NAACP organization in 1948 and was elected as President of the Kansas City chapter of the NAACP in 1959. He served as President until 1968. He was an assistant Jackson County counselor from 1967 until 1972.
Mr. Swinton was elected to the Jackson County Legislature in 1972 and was the first black person to serve in the legislature. He was elected Chairman in 1976. He chose not to run again in 1978.
In May 1979, Mr. Swinton was appointed to the Kansas City Board of Parks and Recreation Commissioners by Mayor Richard Berkley. He served on the Board until May 1980 at which time he resigned to run for the Missouri State Senate. He won the election in November 1980, becoming the first black State Senator from the Kansas City area. Mr. Swinton served in the Missouri State Senate until October 1983.
---
"AT YOUR OWN PACE" | Black Girls Do Bike |Swope Park Trails
Jassma Thomas is something she hopes to see more of out on the trails around Kansas City, Missouri – a black woman on a mountain bike. In 2020, she tried a small piece of beginner-friendly trail on her hybrid bike with a friend she made through a Facebook group for local women who ride bikes. By spring of the following year, she had fallen in love with trail riding and bought herself a Trek Roscoe 7. She encourages black women to "just go for it" and give mountain biking a try. Sure, riding trail is a mix of emotions – uncertainty, fear, pure exhilaration and joy – but it's also an opportunity to forget about life's daily challenges, to relax and become wholly focused on the present moment and just BE yourself. Video>>
---
Dr. Jeremiah Cameron (1919-2008) was the second black person to be appointed to the Kansas City, Missouri Board of Parks and Recreation Commissioners. Chosen in 1972 to replace Harold L. "Doc" Holliday who resigned from the position, Dr. Cameron served on the Board until 1979.
Dr. Cameron was born in Kansas City, Missouri and attended Lincoln High School. In order to go to college at Indiana University, he worked to pay for his tuition and expenses. He was elected to Phi Beta Kappa, the first black member at that school, and graduated in 1942. After serving in the Army during World War II, he continued his college studies, earning a Masters' Degree from the University of Chicago and a Doctorate in English from Michigan State University.
Dr. Cameron came back to Kansas City in 1950 and taught school at high school and college levels, retiring from full-time teaching in 1989. He also devoted much time to the cause of civil rights and was an officer in the local chapter of the NAACP. While serving on the KC Parks Board, he introduced a resolution to name Brush Creek Park at Swope Parkway and Woodland Avenue for Dr. Martin Luther King, Jr. He first brought it up in 1976 at the suggestion of the local chapter of the Southern Christian Leadership Conference. The renaming passed in 1978.
Dr. Cameron was known for his intelligence and skill with words, both in speaking and writing. He was not afraid to express his opinions. He never married but spent much time with his family.
In 2007, the Kansas City Parks and Recreation Department named ground at 43rd and Broadway the Dr. Jeremiah Cameron Park to honor the man and his many accomplishments. This place was chosen because it was near the location of what had been Penn School, the elementary school where Dr. Cameron attended. The Penn School building at 4237 Pennsylvania no longer existed, but had been significant as the first school west of the Mississippi River for the expressed purpose of educating black children.
---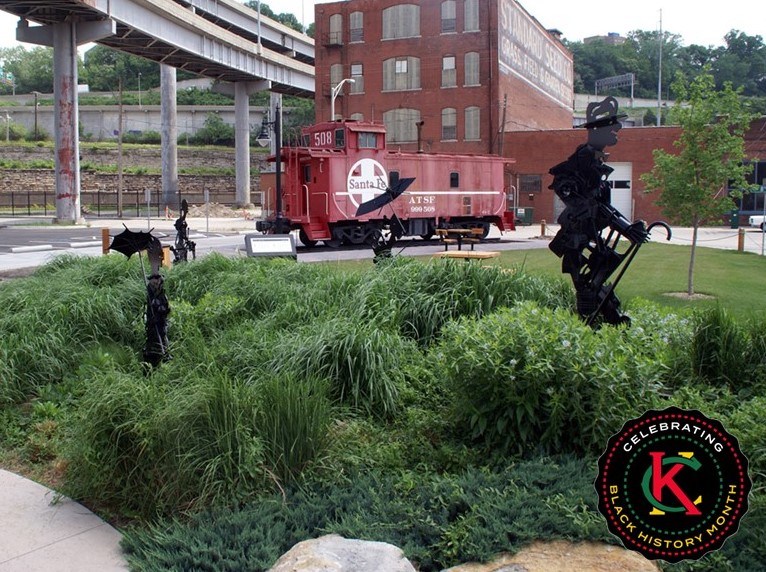 The Exodus Family at Freedom Mall on the Riverfront Heritage Trail, 821 Madison, in the West Bottoms. The Freedom Mall is dedicated to the courageous men and women — both free and enslaved — who faced unimaginable tribulations in their pursuit of freedom. The Freedom Trail follows the route of the Lewis & Clark Viaduct in Kansas City, marks the path of many enslaved as they made their way across Missouri to the free state of Kansas. The Exodus Family is a multi-piece sculptural work created by artist Edward Hogan to honor those who attempted to cross the West Bottoms area to cross the river to the "free state" of Kansas and a new beginning. More>>
---
Harold Lee Holliday, Jr. (1943-2005) was a bright and outspoken community leader and the first black person to be appointed as a Commissioner to the Kansas City Park and Recreation Board. He was also the first black to graduate from the University of Missouri at Columbia School of Law. During the mid-1970s he served as President of Freedom, Incorporated. His nickname was "Doc". Mr. Holliday served on the KC Parks Board from June 1971 until July 1972. He resigned to run for the Jackson County Legislature on which he served until 1985.