Loose Park Weddings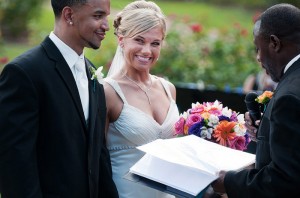 A permit is needed for your wedding ceremony anywhere in Loose Park. Wedding Request Form>>
POND WEDDINGS
$80.00 two-hours
Available to schedule during the following times:
Daily, 8 a.m.-8 p.m.
(does not include access to the Rose Garden)
Layout>>
ROSE GARDEN WEDDINGS
Ceremony: $375.00 two-hours
Available to schedule during the following times:
Friday, 4-6.m. and 6-8 p.m.
Saturday/Sunday, 8-10 a.m., 10 a.m.-Noon, Noon-2 p.m., 2-4 p.m., 4-6 p.m. and 6-8 p.m.
Layout>>
Rehearsal: $100.00 one-hour
Rehearsals may be booked Monday-Thursday for one-hour time slots between 4-7 p.m.
Some things to consider before having your wedding in the Rose Garden:
This is a public park; the rose garden is a public facility, and no area may be blocked off at any time. The rose garden is to remain open to the public, even during permitted weddings.
Other events may be taking place in Loose Park as well.
Weddings may be scheduled year-round, but the fountain will be off November -April.
No refunds will be given under any circumstances, including weather.
Any chairs, decorations, musical equipment, etc. must be set-up and taken down within the two-hour time period.
All supplies and equipment must be carried to the rose garden. Vehicles are not allowed on turf areas or in the rose garden.
Arrangements for holding a reception should be made at a separate location.
The Pavilion is not included in your permit fee.
Food is not allowed in the rose garden. Liquor is prohibited in Loose Park.
Pop up Picnics are not allowed in the rose garden. Only in the Loose Park green spaces..
No tents or awnings are allowed in the rose garden
Runners are not to be placed atop the grass in the rose garden.
Birdseed, confetti or tissue flowers are not allowed inside the rose garden. Birdseed may be used once on the road or parking surfaces. Rice can kill birds and is not allowed.
Parking is limited. If many guest are expected, a good idea might be to meet in one larger location, and rent a trolley or car system to transport guest to the rose garden.
There is a $50 non-refundable deposit to schedule an event/wedding in KC Parks.
For more information or questions regarding weddings in the Rose Garden, please call 816-513-7701.