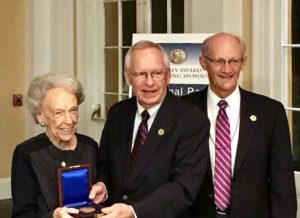 Anita B. Gorman recently received The Honorable Cornelius Amory Pugsley Medal from the American Academy for Park and Recreation Administration (AAPRA) at a banquet held during the National Recreation and Park Association's Annual Conference in New Orleans. She was presented the award by KC Parks Director Mark L. McHenry, who was installed as president of AAPRA at the same banquet.
The Pugsley Awards are the most prestigious awards that recognize outstanding contributions to the promotion and development of public parks, recreation and conservation in the United States.  Mrs. Gorman is the first and only Pugsley recipient from Kansas City, Missouri.
The inaugural Pugsley Medals were awarded in 1928. The winner of the first National level award was Stephen T. Mather, the first director and "father" of the National Park Service. The distinguished pedigree of subsequent honorees has confirmed the prestige and status of the awards. Link to past recipients and bios>>
About Anita Gorman
Kansas City needs more people like Anita Gorman.  Mrs. Gorman has worked to improve this community's quality of life for more than 50 years.  Her leadership in and work with many groups and organizations has helped Kansas City blossom, particularly in the areas of parks, recreation and conservation.  She is a person who can lead and also work behind the scenes to persuade movers and shakers to provide needed support and action to strengthen the park and boulevard system and important public recreational activities.  Her love of nature led her to pursue activities that relate to the importance of the outdoors to people.
Early in the 1960s, Mrs. Gorman joined the fight to prevent commercial development of an open space near her home, an area that eventually became part of Kansas City's park system and is today known as "Anita Gorman Park".  The first fountain in Kansas City north of the Missouri River was built in this park and she helped to raise funds for it, as well.
Also in the 1960s she helped lead a fight to save an Indian archaeological site that was threatened by the placement of a sewer and sewage lagoon.  She and others brought the importance of the historical significance to the Kansas City Park Department's attention and that property became part of Kansas City's park system.
Mrs. Gorman was the first woman appointed to the Kansas City, Missouri Board of Park and Recreation Commissioners. She served from 1979 until 1991 and as President from 1986-1991. Many things were accomplished during her tenure.
During her time on the Park and Recreation Board, bonds were passed to support and expand the Kansas City Zoo; acquisition of property for additional parks and boulevards; and restorative work on sculptures and monuments owned by Kansas City Parks and Recreation.
Though no longer a Park and Recreation Board Commissioner, Mrs. Gorman has continued her work on behalf of Kansas City's Parks and Recreation projects.  In 2012 she was a strong supporter of a successful sales tax increase that was part of Mayor Sly James' effort to better fund the parks and recreational activities for many years to come. It provides a net increase of about $3 million over current funding for parks and for community centers.
She was involved in the fundraising for and the successful promotion of the passage of a temporary sales tax for the improvements and expansion of the Liberty Memorial, now The National World War I Museum and Memorial, recognized by the United States Congress as the nation's official World War I museum and has received National Historic Landmark status.
Mrs. Gorman is a longtime supporter of Starlight Theatre, an outdoor theater located in Swope Park.  She has co-chaired multiple fundraising campaigns, raising millions of dollars to make improvements to Starlight.  In 2007, the Anita B. Gorman Court of honor was dedicated to honor Mrs. Gorman for her service and support to this wonderful and popular venue.
Nature and conservation are also important in her life.  She served on the Missouri Conservation Commission from 1993 until 2005 and became the first woman to chair the commission in 1996.
Some of the accomplishments during her tenure were the purchase of over 4,000 acres in the St. Louis, MO area for fish, wildlife, forestry and conservation; she also helped found the not-for-profit Missouri Conservation Heritage Foundation that provides financial support for conservation projects.  The culmination of her service and vision for conservation education was the naming of the Missouri Department of Conservation's Discovery Center, at 47th Street and Troost Avenue, the Anita B. Gorman Conservation Discovery Center.
Mrs. Gorman has been a member of the City of Fountains Foundation since its beginnings in 1973.  The Foundation works in partnership with the Parks and Recreation Department to operate and maintain Kansas City, Missouri's 48 publicly-owned fountains.  The Foundation's goal is to raise funds to construct new fountains in Kansas City [the "City of Fountains"]; manage trust funds to cover maintenance of fountains; and increase awareness of the importance of Kansas City's fountains. Presently, the Foundation's Fundraising Committee, led by Mrs. Gorman, is focusing on eight particular fountains with the goal of raising millions of dollars to help with renovations and maintenance.
Mrs. Gorman also served as the Citizens Association of Kansas City's Board of Governors and was elected its first woman chairman in 1977; worked for the establishment of the Kansas City International Airport and was on the commission for its dedication in 1972.  She has served on many civic boards and committees including the Salvation Army; City Union Mission; Starlight Theatre; the Convention and Visitors' Bureau; Blue Cross Blue Shield of Kansas City, Missouri; Conservation of Heritage Foundation; Fine Arts Council; Full Employment Council; William Jewell College Trustee; Director of Commerce Bank; Convention and Visitors Bureau of Greater Kansas City; Citizens Association of Kansas City; Trustee of National Parks and Recreation Association; Greater Kansas City of Trusts & Foundations; Visiting Nurse Association and the Liberty Memorial Association.
On November 19, 2014, National Philanthropy Day, Mrs. Gorman was recognized as the "2014 Outstanding Fundraising Volunteer" by the Mid-America Chapter of the Association of Fundraising Professionals.
Mrs. Anita Gorman was inducted into the Missouri Parks and Recreation Hall of Fame in 2015. Mrs. Gorman as also received the following Major Honors: Volunteer of the Year Award (2009), Jay B. Dillingham Leadership Award for Northland Neighborhood Association (2008); City Union Mission Award, Woman Who Change the Heart of the City (2008); Fellowship of Concerned, Joe Wally Award (2008); Starlight Theatre Court of Honor Award (2007); The Clay County Commission County Commission named a portion of Smithville Lake the Anita B. Gorman Hiking Trail and Prairie Restoration (2007); The National Chevron-Texaco Conservation Award (2002); Mid America Regional Council, Regional Leadership Award (2002); First Woman Award of Kansas City (2000); Unico Citizen of the Year Award (199); KCI/Northland Regional Chamber Leadership Award (1996) MPRA Citation, Outstanding State Park Commissioners (1989); Outstanding Citizen of Kansas City, Missouri, Communications Matrix Award (1981) and Outstanding Citizen of Kansas City Missouri Municipal League  (1983).
Other Major Civic Contributions:  Led efforts to acquire land and construct Parma Woods Shooting Range (2001); instigated the establishment of the Missouri Conservation Heritage Foundation (1998) and chaired the final efforts of the Conservation Department to acquire the Columbia Bottom Conservation Area by the confluence of the Missouri and Mississippi to name a few.
Anita Gorman was very instrumental in working with the Mayor and other City Leaders  to overwhelmingly renew Kansas City Earnings Tax in April of 2016 even with a $2 million ad campaign against it.
Mrs. Gorman became one of the Honorary Leaderships for "Making A Museum KC" which is an innovative fundraising initiative and capital campaign to increase awareness, raise private funding, and build community support for the Kansas City Museum.
Throughout her life of work on Kansas City's behalf, Mrs. Gorman has had the support of her late husband, Gerald, and her children and grandchildren.  No matter how extensive her activities, her passion remains steadfast for Kansas City and she encourages the next generations to step up and work on its behalf, leaving it a better place for all to enjoy.
About American Academy for Park and Recreation Administration
The Academy is a group of distinguished practitioners and educators who are leaders in the field of park and recreation.
Members must have served for at least 15 years in a high level of administration in a park and recreation agency or as a recognized educator in parks and recreation administration; or they must manage a park and recreation department for an agency with a population of more than 500,000.
They also must have demonstrated outstanding ability in administration, management or education in the profession; displayed broad interest with a direct service benefit to the advancement of public parks and recreation or assumed leadership with a keen desire to contribute to the advancement of the field. The Academy is limited to 125 active members.
Established in 1980, the Academy was formed to advance knowledge related to the administration of recreation and parks; encourage scholarly efforts by both practitioners and educators to enhance the practice of park and recreation administration; promote broader public understanding of the importance of parks and recreation to the public good; and conduct research, publish scholarly papers and/or sponsor seminars related to the advancement of park and recreation administration.