Two trees were planted in Loose Park's Stanley R. McLane Arboretum during the annual Arbor Day celebration on April 23. A Tulip Tree was planted in honor of former KC Parks Director Mark L. McHenry and an Autumn Brilliance Serviceberry tree in memory of Harold and Mary Chaney.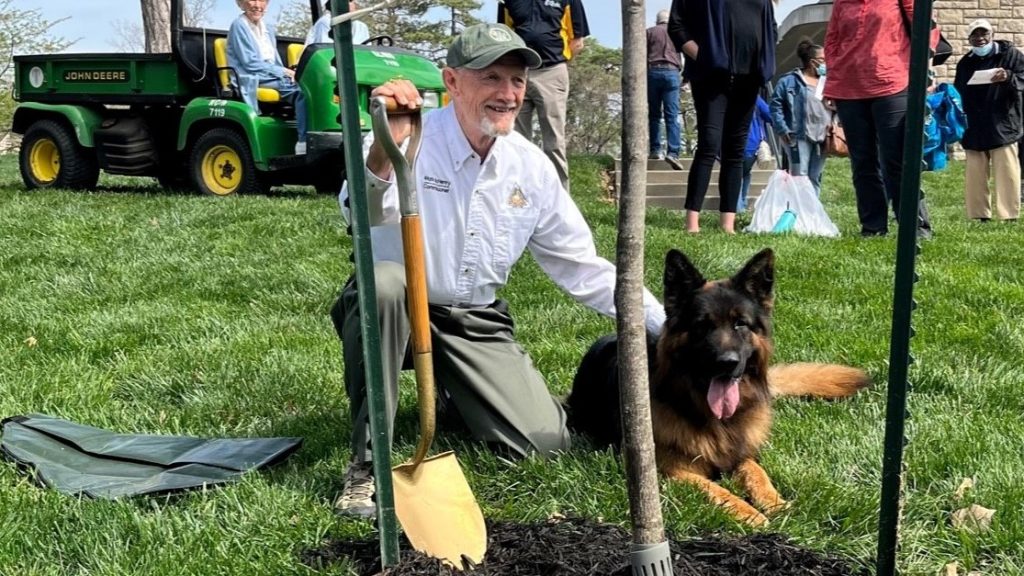 Mark L. McHenry
From the spring of 1974 as a Municipal Management Intern with Park and Recreation to the Director of the Department over the course of 44 years is tough to compile in 500 words. Mark learned everything from the ground up. His involvement included the building of golf courses, creating the village at Shoal Creek Living History Museum, winding up the first 15 years as the head of Buildings and Structures (skilled trades) and with Park Maintenance division.
Mark rose through the ranks of the department concentrating on development and construction as the Deputy Director. Many of the city fountains such as The Children's Fountain and Firefighters Fountain and Memorial were either built or refurbished. Mark was Project Manager for the new Lakeside Nature Center, Tom Watson Golf Academy/Heart of America Golf Course, Equestrian Center and Starlight Theatre stage house. But the most challenging was the Liberty Memorial. After complete renovation, this is now nationally recognized as THE World War I Memorial and Museum in the United states. All this was Mark McHenry serving 15 years as Deputy Director of Parks and Recreation.
Upon the retirement of Terry Dopson, Mark was selected as Director of the department he had assisted with for the past 29 years. He was instrumental in working with local businessmen in securing a half-cent sales tax for long-term funding for parks and Recreation. The new Soccer Village in Swope Park (home of the Big 12 Soccer Tournament) was developed along with 3 additional soccer fields for youth soccer. Among his massive accomplishments: leveraging private investments in parks; securing a new home for the Central Region Headquarters; expanded the boulevard and parkway system and got the original park and boulevard system listed on the National Registry of Historic Places; expanded our trial system to include miles of new bikeways and pedestrian friendly roads.
Currently, Mark spends his time serving as Commissioner with the Missouri Department of Conservation, serves on eight community-based Non-Profit Boards, works four part-time consulting jobs, co-chairs two capital fund-raising campaigns and spends quality time with his two grandchildren,
Mark's passion for 44 plus years has been Kansas City Parks and Recreation. We celebrate Mark's passion with a Tulip Tree planted in his honor.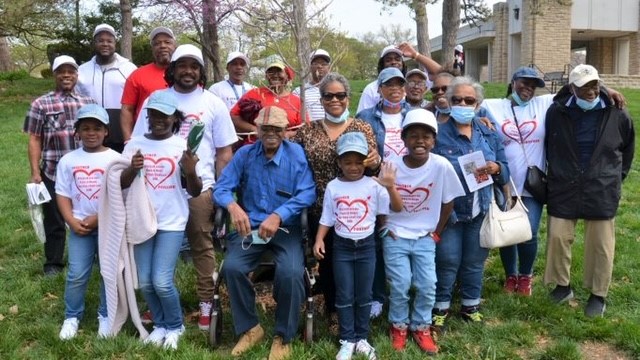 Harold and Mary Chaney
In memory of their parents, the family of Harold and Mary Chaney selected an Autumn Brilliance Serviceberry. This tree was donated by the family and friends of the Chaneys, who have been a part of the KCMO Parks and Recreation family for many years.
Harold worked for in a variety of increasingly responsible jobs for Parks and Recreation for nearly 40 years. His long and distinguished career began as an equipment and park facility maintenance crews at 39th and Gillham. He was promoted to assistant park district manager at 39th & Gillham, District 2 and later was moved to District 3, 17th & Woodland and promoted to Park District Manager, the first African-American to hold that position in KCMO Parks and Recreation. Harold completed his career, serving as Park District Manager at District 1, north of the river.
Harold worked tirelessly providing the citizens of Kansas City with first class Parks and Recreation facilities to meet their recreational needs. He directed employees under his supervision in park maintenance, park facility construction, snow and ice control on the boulevards, and anything else he was asked to do and he did it all in a first class manner. Kansas City is a beautiful place to call home due in large part to the efforts of Harold Chaney and the men and women under his supervision.
Harold and Mary were special people. As a wife to a very active man, Mary was a Neighborhood Mom who loved baking bread and cakes with lots of decorations. She hosted the Family Picnic on the third Saturday of September and loved planning and helping in their church. Normally, if you got one Chaney, you had a whole bunch of Chaneys.
Family was a high priority for both Harold and Mary. Whether it was holiday gatherings, family fishing and hunting trips or just spending time together, bot Harold and Mary found time to make the family feel special. We should note here that Mary could catch more fish than Harold.
Much will be written about Harold Chaney's time with Parks and Recreation. He accomplished much more for this city that most people will ever know. He never failed to tackle any project with enthusiasm and a can-do attitude. He was perhaps one of the most positive men I have ever met and a complete joy to work with. He had the skill to deal with all kinds of situations and personalities. His ability to adapt and pull people in on his projects consistently resulted in success.