Three pieces of artwork have been installed in Washington Square Park as part of the 2019 Art in the Loop Project, a curated outdoor exhibition of temporary artworks and performances presented in three Downtown locations: the KC Streetcar, Washington Square Park, and the Kansas City Central Library.
KC Parks is thrilled to again host the Art in the Park component of the project. The following local artists have created installations–influenced by the theme Make/Believe–that are in the park  through September.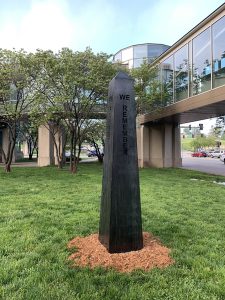 We Remember/We Forget | John Hachmeister
We Remember/We Forget is a monument to the fault lines in our personal and collective memories. Those faults appear in how we choose to remember, how we alter memories, and what we chose to forget due to indifference. This artwork is created by bonding sand collected from the Kaw River in Northeastern Kansas. The sand carries memories of long lost mountains, and, just as ancient mountains and monuments vanish due to weather or the acts of mankind, this outer sculpture will eventually erode back to a pile of sand. There is a difference in this monument, however. The erosion will reveal an inner artwork of steel fabricated books. The book sculpture serves to remind us that we do have resources less mutable than memory—we do have ways to hold on to a closer truth. It is up to us, however, to seek these out in a brave and open way.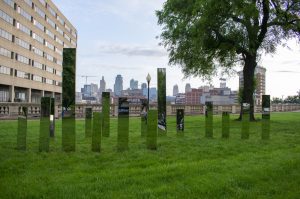 Endless | Alonso L. Ortega
Endless is a concept that invites the theme of Make/Believe into a playful, immersive mirage. Reflective stainless steel planks will be placed strategically in the ground to give the illusion that mirrors are growing, unsupported, out of the earth. Varying in height and location, the reflections play with the skyline of Kansas City and the viewer. These mirrors allow us to perceive and place ourselves in a world in which we create, a world of make-believe, with the intention to create interaction between the public and the city.
Tact | Ari Fish
Tact is an interactive large scale installation in Kansas City's Washington Square Park focusing on community interaction, call to action, prayer ritual, and the idea of sacred space. Referencing many sacred sites across the nation and alongside American highways, chain link fencing surrounds a cluster of redbud trees in the park with each fence covered in ribbons and objects of ritual and prayer by visitors over the span of four months. Washington Square Park has been the home to many gatherings, protests, engagements, meetings, and events. By installing Tact in Washington Square Park, the environment will be activated in a way that creates a visual memorandum of its history.
Additionally, two live performance events will take place in the park this summer, INTER RELATION>SHIP on June 19 and TRANS/PORTAL on August 17.