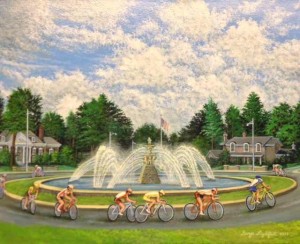 Artists, grab your easels! Pick your favorite fountain!  Join other artists painting this summer to help repair Kansas City fountains!
On June 15,  artists will be painting at area fountains as cyclists participating in the Ride the Fountains bicycle tour pedal past Kansas City fountains. Both the artists and the cyclists are using their talents and energy to support the repair of Kansas City's flowing treasures.
Artists are invited to continue to paint their favorite fountains until August 20 and deliver one framed painting to the Buttonwood ArtSpace, 3013 Main Street, on August 25 and 26. All fountain artwork  will be on display at the Buttonwood ArtSpace for First Friday, September 5.  A live on-line auction of the paintings will begin that day with artists and the campaign for the fountains each receiving 50% of the final bid.  The auction ends on September 25 and buyers can pick up their purchases at the Buttonwood ArtSpace on September 29 and 30.
The goal of the on-line auction is to have 100 artists and 100 paintings that will raise $10,000 for the fountain repair campaign.