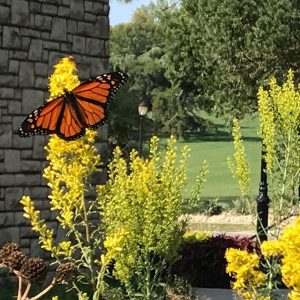 Celebrate the mind-boggling, awe-inspiring, beauty of the seasonal monarch migration at Jacob L. Loose Park Garden Center, 5200 Wornall Rd., KCMO, Saturday, September 23rd 10 a.m.-1 p.m.
Hosted by the Kansas City Native Plant Initiative (KCNPI), Monarch fans can pretend to fly a miniature migration route while observing caterpillars, chrysalises and adult butterflies close-up. During the free event, learn how to identify and tag Monarchs as they reach Kansas City on their migration route to Mexico for the winter months.
In addition to having your face painted and enjoying a popsicle, guests can take home a little bit of Monarch habitat for their own backyard. Start a Monarch garden with free milkweed and nectar plants donated by Prairie Whisper Gardens, Green Thumb Gardens, Applied Ecological Services and Grow Native!
Monarchs are the only butterflies in North America that make such a long, two-way migration every year. Some individual butterflies travel over 3,000 miles and can fly at altitudes as high as 10,000 ft. High winds like those experienced with recent hurricanes can blow Monarchs off-course making it even more important to have flowers with nectar available to help fuel them on their journey.
"We have some fascinating and informative activities scheduled." said Kathy Gates, President of KCNPI, "Kids and adults alike will enjoy this unique, up-close opportunity to connect with the magic of these beautiful creatures."
When:  Saturday, September 23rd 10am – 1pm
Where: Loose Park Garden Center, 5200 Wornall Rd., KCMO
Kansas City Native Plant Initiative (KCNPI) partners share a vision of beautiful, native landscapes connecting heartland communities where nature and people thrive together. Their mission is to increase community knowledge of the importance of preserving and expanding native landscapes for generations to come.
For more information, visit: kcnpi.org