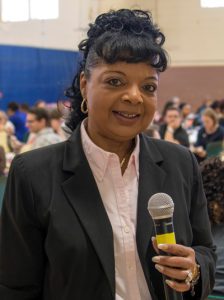 No one works the room like Carol Green. Even if you've never met her before, there's no way you can miss her. She's easily the most visible person on the floor, greeting people more with hugs and smiles than handshakes. And her mental rolodex is sure to contain the information you need to take your community engagement to the next level.
Indeed, she's the engine that powers the Community Information Exchange and she's the one you can always count on to keep the trains running on time.
But how did she get here?
"At one point I was director of the Brush Creek Community Center," Green said. "I was planning the annual Toys for Tots Christmas party. I hustled. I begged to make this the most fantastic party ever. Two blocks away there was some other church party and four blocks away there was another party. I thought there must be a way we could be better connected."
More>>