Fountain Dyeing Guidelines/Fees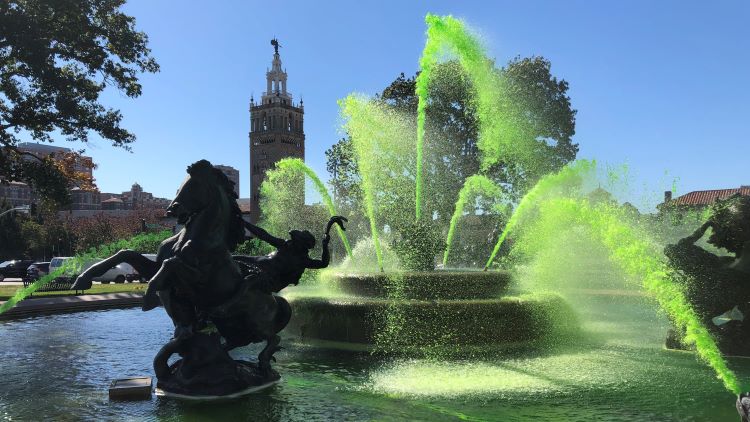 Several of Kansas City, Missouri's fountains are available to "dye" in celebration and recognition of an event or cause. The following fees and guidelines have been established and approved by the Board of Parks and Recreation Commissioners:
Fountains are available for dyeing:  April 20-October 15
Fountains available for dyeing include:
Colors* available for dyeing: Blue, Green, Red, Pink, Purple, Teal, Orange, and Gold
Guidelines:
Open only to non-profit organizations or citywide-sponsored events/celebrations
No two organizations may use the same color dye within the same fountain season
Chosen fountains must be dyed (simultaneously) during the same time frame and on consecutive days; fountains may not be dyed different colors during the same time frame
KC Parks reserves the right to limit the number of fountain dyeings per season
Fountains must run clear two full days between dyeings
10 day maximum dye
Signage showing why the fountain is dyed must be developed and approved by KC Parks Marketing Division. Sign/banners are to be delivered to KC Parks one week prior to first dye day for KC Parks staff to install. Sponsor is responsible for printing the signage/banners.
Fee:

$1,000/per fountain for the first day; $250/per fountain for each additional day**
Payment, in its entirety, must be received two (2) weeks prior to first dye day.
*Additional time and costs may be incurred for custom dye colors
**Additional staff overtime costs are incurred for weekend dyeing events and holidays
To request a fountain dyeing, please complete the online Fountain Dyeing Request Form.
QUESTIONS? Contact Heidi Markle at 816-513-7527