Memorial Weekend at National WWI Museum and Memorial
Event Navigation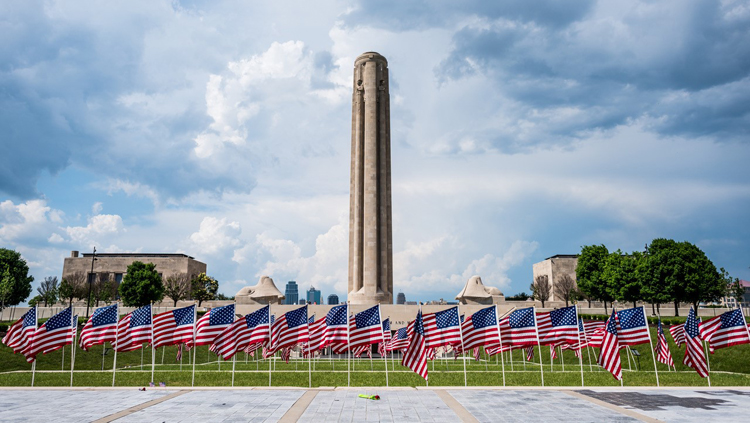 Friday-Monday, May 24-27, 2019
National World War I Museum and Memorial, 2 Memorial Drive (in Penn Valley Park)
On Memorial Weekend (Friday to Monday, May 24 to 27), admission to the National WWI Museum and Memorial will be free for veterans and active-duty military; admission for the public will be half-price.  
Throughout Memorial Weekend, the National World War I Museum and Memorial — the most fitting place to honor the men and women who sacrificed their lives while serving their country – the Museum will host a full schedule of free public events and displays, including:
Flags of Forgotten Soldiers — Installation of 140 U.S. flags in front of the Museum and Memorial will call attention to the 140 veterans lost to suicide every week.
Wounded Warrior Family Support High-Five Tour Vehicle — On its national tour, the 2019 Ford-150 truck adorned with patriotic images and a Purple Heart will make a stop on the Museum grounds for visitors to sign the vehicle with messages of support for wounded veterans
Vintage Military Vehicle Display — Nearly 20 vehicles will be on the Museum and Memorial grounds from World War II, Korean War and Operation Desert Storm and a Vietnam War-era "Huey" helicopter
Find Your Connection to WWI — Visitors can discover their personal connection to the Great War at research stations offering free access to historic databases, including  Fold3.com, Ancestry.com, the American Battlefield Monuments Commission and the National Archives.
Memorial Day Ceremony — Congressman Emanuel Cleaver II, Kansas City Mayor Sly James expected for a free, public ceremony in the Memorial Courtyard featuring musical performances from recording artist and Kansas City native Casi Joy (NBC's "The Voice") and a keynote address from U.S. World War I Centennial Commissioner Dr. Monique Seefried
Memorial Day Bell Tolling Ceremony — The Museum will commemorate those who made the ultimate sacrifice with a bell tolling, presentation of colors, wreath laying and special readings.