Walktober 2022: Brush Creek Trail Quick Paint Contest
Event Navigation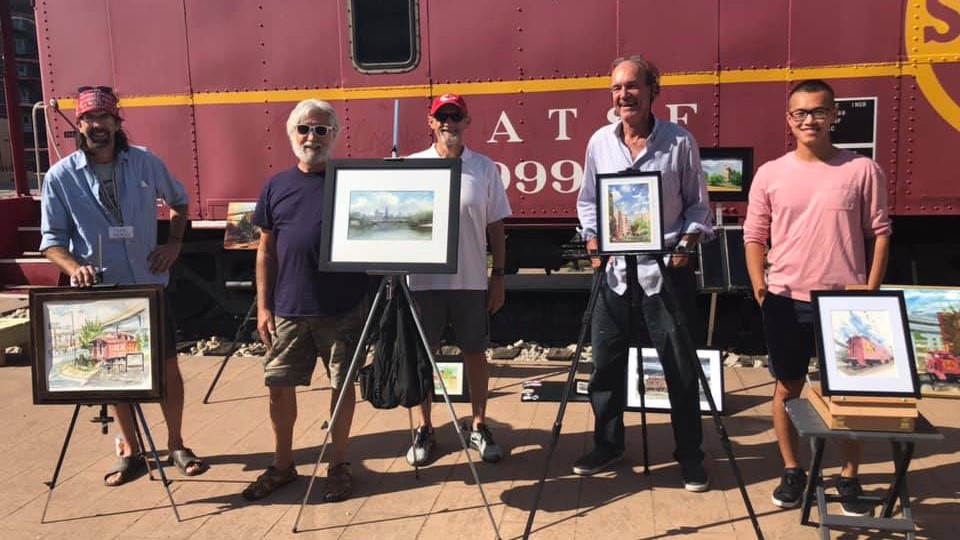 SCHEDULE
10:30-11 a.m.: Artist Check-in
11 a.m.-1:30 p.m.: Quick Paint (turn completed work in by 1:30 p.m. to be considered for judging)
1:45 p.m: Purchase Award: $250 sponsored by KC Parks
REGISTER
Must have six (6) participants to award prize; no fee to participate. Please pre-register by emailing your name and contact information to heidi.markle@kcmo.org.
This Walktober trail is the signature route in the Country Club Plaza area. Our route begins in MLK Jr. Park, which features the 15 and the Mahomies playground, and heads west towards the Country Club Plaza for two-miles along the north side of Brush Creek. Along the way, you will enjoy Kauffman Legacy Park which features the Anita B. Gorman Conservation Center, Kauffman Foundation Conference Center, and Ewing and Muriel Kauffman Memorial Garden. You will traverse through the Theis Park Amphitheatre before ending on the Country Club Plaza.
RULES
1. Painting must be done outside ENTIRELY on location on Sunday, October 16 between the hours of 11 a.m.-1:30 p.m.
2. All traditional mediums are accepted (oils, watercolor, pastel, acrylic, ink, graphite).
3. Blank (or solid color painted background) painting surfaces must be stamped prior to painting at the check-in station located at the shelter in MLK Park.
4. Artists may paint anywhere on the Brush Creek Trail. Subject matter can be anything within sight as long as the artist is within the boundaries.
5. Artists will immediately submit work for judging and a chance to win the $250 purchase award. Return the completed work by 1:30 p.m. to be considered for judging.
6. Purchase award will be chosen and prize awarded at 1:45 p.m. Winning artwork becomes the property of the Quick Paint sponsor.