Walktober 2022: Riverfront Heritage Trail Quick Paint Contest
Event Navigation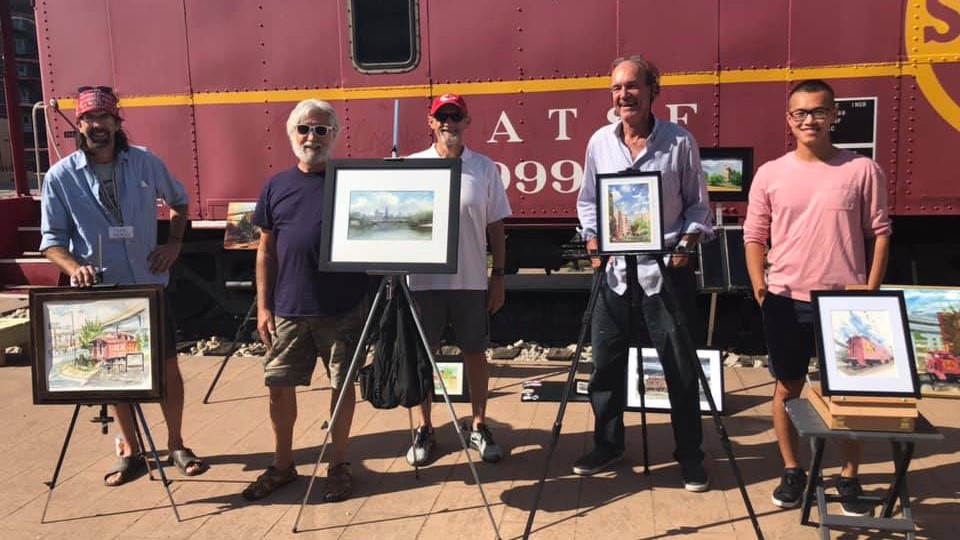 SCHEDULE
10:30-11 a.m.: Artist Check-in
11 a.m.-1:30 p.m.: Quick Paint (turn completed work in by 1:30 p.m. to be considered for judging)
1:45 p.m: Purchase Award: $250 sponsored by the Riverfront Heritage Trail
REGISTER
Must have six (6) participants to award prize; no fee to participate. Please pre-register by emailing your name and contact information to heidi.markle@kcmo.org.
This Walktober trail segment follows West Pennway, passes over a pedestrian bridge at I-670 and connects on the north with downtown. As it winds through the Westside Neighborhood it features a several attractive art works that feature shapes and colors that are associated with the Mayan Culture. Even the trail lighting is designed to reflect the Spanish-American background of many of the residents. On the north end of this trail segment you will discover a decorative pedestrian bridge that gives you an excellent view of Kaw Valley as it connects the oldest parks in Kansas City. The bridge itself features spectacular iron work that depicts the frequent flock of birds seen in the area.  A highlight on this trail segment is 5,500 pound fiberglass Hereford Bull replica that resides in Mulkey Square.
RULES
1. Painting must be done outside ENTIRELY on location on Sunday, October 2 between the hours of 11 a.m.-1:30 p.m.
2. All traditional mediums are accepted (oils, watercolor, pastel, acrylic, ink, graphite).
3. Blank (or solid color painted background) painting surfaces must be stamped prior to painting at the check-in station located outside of the Tony Aguirre Community Center.
4. Artists may paint anywhere on the Segment 4 of the Riverfront Heritage Trail.  Subject matter can be anything within sight as long as the artist is within the boundaries.
5. Artists will immediately submit work for judging and a chance to win the $250 purchase award. Return the completed work by 1:30 p.m. to be considered for judging.
6. Purchase award will be chosen and prize awarded at 1:45 p.m. Winning artwork becomes the property of the Quick Paint sponsor.