Minor Park's more-than-minor wonders: history, riverfront hiking and a busy cricket league in south Kansas City by April Fleming, The Pitch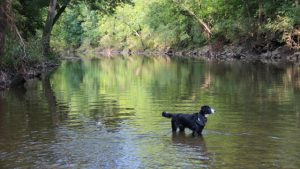 Beginning almost two centuries ago and continuing for 35 years, the grassy hills now a part of Kansas City's Minor Park were rutted by constant wagon traffic from travelers on the Oregon, Santa Fe and California trails, most of which originated in the region. Just west of where the old Red Bridge now sits was a muddy bog in which wagons often became stuck. Deep swales from the three pioneer routes are still visible today, marked with a shabbily kept but informative National Park Service plaque.
For its history alone, then, Minor Park is a worthy local attraction. Plus, it features several amenities — park shelters, tennis courts, a public golf course and soccer fields. But the 200-acre space also boasts miles of winding, lush river-bottom trails (maintained by dedicated volunteers and conservationists who supplement efforts by the city's parks employees to eradicate not only trash but also invasive plants, including honeysuckle) ideal for mountain bikers, runners and dog walkers. Here, in fact, is a soothing respite from summer's hottest blasts: With a dense canopy of tall trees blocking or softening the sunlight, the trails are often 10 degrees cooler than areas outside the bottoms' protection. The water in the Blue River, along which much of the trails run, is surprisingly cool and clear, and is home to fish, ducks, geese and turtles.
Much of the area has never been developed (Marie Minor Sanborn donated the land, which had long been in her family, to the city in 1941), and remains so quietly lovely that you can forget you arrived here having traveled through traffic-lashed sprawl. Only the shrill call of a train — a freight line bisects the park — interrupts your meditation.
With children's soccer largely migrating toward Johnson County's mega-complexes, Minor Park's abundance of grassy sporting fields (there are dozens of them) have, in recent years, begun to attract more eclectic endeavors. Adult-league football and drone-flying are sanctioned here, and the Midwest Cricket League, several teams strong, has also found a home in the park, playing just south of the old Red Bridge every weekend from late April to mid-October. (Pictured here: Pak XI squaring off against the UMKC Mystics.)
The north entrance to Minor Park is located on Red Bridge Road between Holmes and Blue River Road. Trailheads can be found along Blue River Road and along the paved path accessible at Minor Park's north entrance. Bring insect repellent — this place is as buggy as a river bottom of any century.