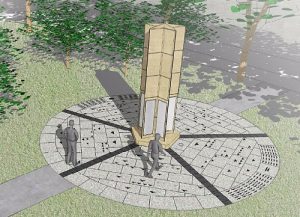 On Thursday July 20, a ground breaking for a new monument honoring of The Native Sons and Daughters of Greater Kansas City, Inc. (NSDKC) was held in Ilus Davis Park. NSDKC is an organization dedicated to the historic preservation of the unique and rich heritage of the greater Kansas City metropolitan area, both in Missouri and Kansas, through advocacy, education and restoration. The program featured NSDKC Event Chair Chuck Eddy, NSDKC President  Diane Boos Pepper,  NSDKC Monument Chair Carl DiCapo, KC Parks Director Mark L. McHenry and others.
The Monument is to be erected on the west side of the 5.2 acre Ilus Davis Park located north of City Hall. Community leaders across the region enthusiastically support this project. The Monument Project Committee, led by NSDKC Past President Carl DiCapo, includes members of NSDKC, representatives from J.E. Dunn Construction Co., and BNIM Architects, Inc.
The Monument's design includes the following primary elements:
An imposing 16-ft high x five-pointed star-shape tower providing ten exposed faces around its perimeter represents the 10 regional counties which is the NSDKC focus area:

Kansas counties (Leavenworth, Wyandotte, Johnson, Miami)
Missouri counties (Platte, Clay, Cass, Ray, Jackson, Lafayette)

Each of the five points of the tower's star-shaped design (5'-6" from 'point-to-point') represents the primary aspects of the NSDKC mission:

Historical Preservation
Education
Advocacy
Charity
General welfare of the greater Kansas City region

The 16-ft high tower will be constructed of precast concrete units formed in a classic five-pointed star-shape. The tower height reflects the character strengths and virtues embraced by our Greater Kansas City community found within Wisdom and Knowledge; Courage, Humanity, Justice, Temperance, and Transcendence.
10 laser-etched aluminum panels, installed on each face of the five-pointed star tower, are themed with the primary attributes of our community's heritage, including the early cultures and explorers, western expansion, transportation, agriculture, entrepreneurs, arts and education, science and research, sports, the distinct grandeur of our region, and a tribute to The Native Sons and Daughters of Greater Kansas City.
A landscaped plaza area with inscribed granite paving units feature themes such as recipients of NSDKC's Outstanding Kansas Citian Award; NSDKC's Past Presidents; NSDKC preservation projects; and its historical markers program. (note: granite paving units shall be available for sponsorship, similar to the many other 'sponsored brick programs' conducted in our region.
A wayside exhibit will be located adjoining the plaza area describing the features of the Monument, including a description of the Monument's design elements, recognition of significant project funding donors, and project committee members and sponsors.