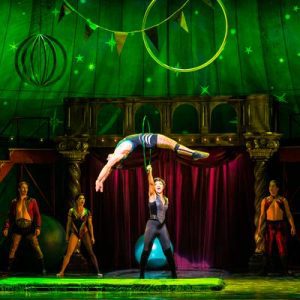 They've "got magic to do, just for you"! PIPPIN, the most nominated Broadway musical of 2013, brings its high-flying thrills and talented company of 48 performers to Starlight Theatre on June 30-July 5. The national tour of this hit Broadway revival, which took home four Tony Awards®, brings to Kansas City audiences the beloved music of Stephen Schwartz, who also composed Wicked and Godspell, and sizzling choreography in the style of Bob Fosse. Tony winner Diane Paulus directs the dazzling production.
Revived and reimagined, PIPPIN is entertaining audiences 40 years after the original production debuted on Broadway. Its celebrated score includes "Corner of the Sky," "Magic to Do" and "Morning Glow."
As an added bonus, Starlight guests who attend the performance of PIPPIN on the Fourth of July will also enjoy a free fireworks extravaganza immediately after the show. The 15-minute fireworks production will be supported with a soundtrack of favorite Broadway tunes.
PIPPIN tells the story of a young prince on a death-defying journey to find meaning in his existence. In search of an extraordinary life, Pippin heads off to war, unseats his father from the throne, later regrets his actions, meets a beautiful widow and more. Will Pippin choose a happy but simple life? Or will he risk everything for a singular flash of glory?
Referred to as "a play within a play," the story of PIPPIN is told by a traveling troupe of actors and acrobats (called "Players") and led by the mysterious Leading Player. Like a vaudeville act, the Players act out the roles of the story and speak directly to the audience. Sasha Allen of season 4 of NBC's "The Voice" stars as Leading Player in the national tour, and she is backed by the breathtaking acrobatics of the Montreal-based circus company, Les 7 Doigts de la Main.
"I am thrilled to bring this production to Kansas Citians this season," said Rich Baker, Starlight president and CEO. "This revival contains all of the wonderful music of the original production, but it's newly conceived with circus elements that provide a fresh dimension and modern feel which I'm confident will captivate Starlight audiences."
In 2013, PIPPIN won four Tony-Awards® including Best Revival of a Musical, four Drama Desk Awards, seven Outer Critic Circle Awards and the Drama League Award.
The touring cast of PIPPIN features Sasha Allen as the Leading Player; Sam Lips, who understudied the role on Broadway, as Pippin; John Rubenstein, who originally played the title role of Pippin in the 1972 production, as Charles; Sabrina Harper as Fastrada; Kristine Reese as Catherine; Adrienne Barbeau as Berthe; Erik Altemus as Lewis; and Jake Berman as Theo.
The tour's creative team is led by director Paulus, director; Chet Walker, choreography; Gypsy Snider, circus creation; Nadia DiGiallonardo, music supervisor and arrangements; Larry Hochman, orchestrations; Scott Pask, scenic design; Kenneth Posner, lighting design; Dominique Lemieux, costume design; and Jonathan Deans and Garth Helm, sound designers.
Tickets for PIPPIN at Starlight Theatre are on sale now for $12 to $92. Tickets are available online at www.kcstarlight.com, by calling 816.363.STAR (7827) or at the Starlight box office at 4600 Starlight Road, Kansas City, MO 64132. All performances begin at 8 p.m.
Discount prices for groups of 10 or more are available by contacting group sales coordinator Staci Shute at 816.997.1137 or staci.shute@kcstarlight.com
About Starlight Theatre Starlight Theatre, winner of the 2013 Venue Excellence Award from the International Association of Venue Managers (IAVM), is the largest and oldest performing arts organization in Kansas City and the second-largest outdoor producing theatre in the country. Opened as a theater in 1950 and as a not-for- profit organization in 1951, Starlight presents and produces Broadway musicals and concerts. It also offers extensive community outreach and educational programming, including classes, scholarships and Starlight's Blue Star Awards, one of the largest high school musical theatre award programs in the nation.
Located on 16 acres in Swope Park, Starlight's venue includes rehearsal halls, gift store, club area for dining, concessions, gardens, fountains and a 10-story, climate-controlled stage. For more information, visit www.kcstarlight.com.