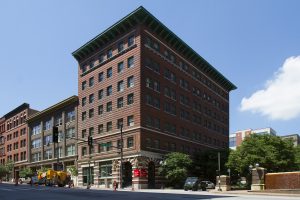 The Kansas City Museum recently announced that it will open a new exhibition and programming space on the first floor of the historic 800 Broadway Building located at the corner of 8th St. and Broadway Blvd. in the Historic Garment District in downtown Kansas City, Mo (an area defined as between 6th and 11th Streets, and Washington and Wyandotte Streets). This new space provides an additional 3,300 square feet and is adjacent to Garment Park, as well as across the street from the historic Poindexter Building at 801 Broadway Blvd. where the Historic Garment District Museum is located. Both spaces, at 800 and 801 Broadway, will comprise the Historic Garment District Museum of Kansas City and will be open Wednesday-Saturday from 10:00 a.m. to 4:00 p.m. (as well as select evenings) starting on August 16, 2017 and as the Kansas City Museum heads into its construction stage on Corinthian Hall (the mansion) at 3218 Gladstone Blvd., Kansas City, Mo.
In 2015 the City of Kansas City, Missouri Parks and Recreation Department, which operates and manages the Kansas City Museum, took over the operation and management of the Historic Garment District Museum, founded in 2002 by Ann Brownfield and Harvey Fried. The Kansas City Museum acquired the Historic Garment District Collection that is comprised of more than 350 garments made by local companies from the 1920s through the 1970s, and includes numerous objects such as equipment and marketing pieces. This collection highlights about a dozen companies that helped make up Kansas City's Garment District, which at one time was one of the largest garment districts in the nation.
The new space at 800 Broadway will expand the visitor experience by offering exhibitions, programs, and events that honor the rich history, legacy, and stories of Kansas City's Garment District by displaying materials from the Historic Garment District Collection while showcasing the Kansas City Museum's vast collection of historical clothing, textiles, and costumes, and also presenting contemporary works by local fashion designers and artists.
"The Kansas City Museum has one of the largest and best represented collections of clothing materials in the Midwest, including couture gowns, day dresses, uniforms, overalls, shoes, hats, buttons, and everything in between," Kansas City Museum Director of Collections and Curatorial Services Denise Morrison said. "Additionally, the Museum collection includes examples of many kinds of quilts and coverlets. The enhanced programming opportunities are endless and will strengthen the Museum's educational impact. We look forward to partnering with other museums and academic institutions to serve students and scholars."
The imprint of history is deep along the Broadway corridor, and in 2014 the Kansas City Museum began to imagine how it could serve as an important catalyst for re-activating the Historic Garment District with vibrant programming and collaborative partnerships.
"The Historic Garment District is alive and growing with businesses, creatives, and residents, and the expanded Historic Garment District Museum will offer a new element of cultural life to downtown Kansas City," Kansas City Museum Executive Director Anna Marie Tutera said. "Ann and Harvey entrusted us with the Historic Garment District Museum at 801 Broadway, and we are honored to sustain their vision and extend it by creating an innovative space and hub, which brings the historical and contemporary together to elevate and exhibit the innovative projects, products, and initiatives of Kansas City's growing fashion and design industries."
The Kansas City Museum staff is in the process of devising a robust schedule of exhibitions, programs, and events serving adults, children, and youth. These include a collaboration with Gladstone Elementary to expand their Local Investment Commission (LINC) after-school STEM fashion program; a special fundraising event, Mid-COAST, for the Kansas City Museum Foundation hosted by KC Collective; a contemporary and thematic art installation by Artist Madeline Gallucci as part of "Every Street is Charlotte Street," a City-wide program in celebration of the Charlotte Street Foundation's 20th Anniversary; an exhibition on Kansas City menswear through the decades curated by Tom Paolini, Owner and Creative Director of Paolini Garment Company; a series of classes and workshops co-produced with Fabric and Textile Artists, Historians, and Curators Sonié Joi Thompson-Ruffin and Nedra Bonds, whose artwork is dedicated to the African American Narrative; an exhibition featuring historical materials from the collections of GLAMA (The Gay and Lesbian Archive of Mid-America), a collecting collaboration between UMKC and the Kansas City Museum; a partnership with the West 18th Street Fashion Show to produce a series of programs and events—leading up to the 2018 West 18th Street Fashion Show Summer Embargo on June 9, 2018 sponsored by Birdies with Peregrine Honig continuing as Artistic Director—on the history and lineage of immigrants who worked in the Historic Garment District; an exhibition on the Jewish community's connection to and experience in the Kansas City Garment District curated by historian Cynthia Ammerman, Principal of Polis Cultural Planning; Double-Decker bus, walking, and bike tours of the Historic Garment District; and much more. Details will be found in July 2017 on www.kansascitymuseum.org.
BACKGROUND ON THE KANSAS CITY MUSEUM
Located at 3218 Gladstone Boulevard in the Historic Northeast community of Kansas City, Missouri, the Kansas City Museum is comprised of five original buildings, including the mansion Corinthian Hall, which was built in 1910 by Robert Alexander Long. The estate became a public museum in 1940. It is owned by the City of Kansas City, Missouri and operated and managed by the City of Kansas City, Missouri Parks and Recreation Department. The Collection contains more than 100,000 artifacts and several thousand more archival materials that interpret Kansas City's local and regional history.

The Kansas City Museum is in the process of architectural design development to create a premier museum of Kansas City's history through a multi-year, multi-staged restoration and renovation project. International Architects Atelier is the lead architectural design firm, and J.E. Dunn Construction Co. is the Construction Manager. Museum Management Consultants produced the Museum's Strategic and Business Plans, which were adopted in Fall 2016, and Gallagher & Associates produced the Museum's Visitor Experience Plan that provides the parameters for exhibition design and development.
The Kansas City Museum Foundation is a 501 (c)(3) nonprofit organization with a mission to develop initiatives, convene leaders, and mobilize resources through inclusive partnerships to support the mission, vision, values, and strategic priorities of the Kansas City Museum.