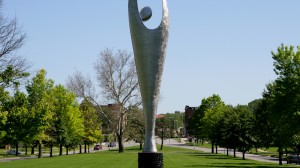 From fountains to First Friday and from museums to memorials—art permeates every corner of Kansas City. And right in the center of it all is an often unacknowledged partner and catalyst, the Kansas City Parks and Recreation Department.
"You look at the arts community within Kansas City and it seems like we tend to touch or interface in some sense in almost every instance," said Mark McHenry, Kansas City Parks and Recreation Department director.
In this day and age, in a major metropolitan area such as Kansas City, parks and recreation is about much more than playgrounds and green spaces.
"Parks and recreation is all about quality of life and creating a more livable city," McHenry said. "When you aren't working, what are you doing? For a lot of people, the arts are a big part of their life away from work. Arts and leisure, those two kind of go together, and we are a big part of both."
Porter Arneill, director and public art administrator at the Municipal Art Commission, said the Parks and Recreation Department plays a vital role in making Kansas City a cultural destination.
"KC Parks is the primary steward for a significant number of Kansas City's remarkable cultural assets," he said. "From beloved sculptures, fountains and cultural venues to parks and boulevards, the Parks and Recreation Department bolsters our identity as a quality arts community by supporting vibrant aesthetics that enrich our beautiful city."
One Percent for Art
In 1986 Kansas City codified a One Percent for Art program that had existed as a resolution since 1970. The program requires that 1 percent of the construction cost of new or remodeled municipal buildings must be set aside for "aesthetic ornamentation and adornment."
In the case of the new Southeast Community Center at 4201 E. 63rd St., that amounted to $80,000 set aside for art. A selection panel chose local artist team Julia Cole and Leigh Rosser to contribute original artwork for the building.
Their creation, titled "Inheritance," consists of five mixed-media works that connect thematically throughout the facility. "Common Ground" is a polished wood topographical map of the community center site and surrounding area; "Mapping Community: Map of Probability, Map of Possibility and Map of Being" is a collection of maps that explore different ways of representing community as both a place and a way of living; "Ripple Effect" is a 150-foot moving sculpture made of a series of translucent blue fins; "Connection Web" is a wall installation that serves as both a work of art and as a working instrument to teach and explore ways of connecting; and "Video Explorers" features artist-created videos that show the discoveries they made while exploring Swope Park.
"One of the things that I think really appealed to the selection panel was that (Cole and Rosser) approached it from a community sensibility," Arneill said. "They were really interested in integrating their work into the community. They did an incredible job with a relatively small budget."
Although it is not part of the One Percent for Art program, Southeast Community Center is also home to "Swope Park – A Photographic Essay." The exhibit by photographer Paul McMillian features 24 scenic images of Swope Park and its grounds.
Performing Arts
The 7,947-seat Starlight Theatre at 4600 Starlight Road plays host to touring Broadway shows and concerts and is one of the Midwest's premier outdoor theatres.  Starlight is owned by the Kansas City Parks and Recreation Department and is managed by the Starlight Theatre Association of Kansas City, Inc., a not-for-profit organization with a 30-member board of directors.
Construction of Starlight Theatre began in 1949 and it was partially constructed in time to hold events for Kansas City's centennial celebration in 1950. The first traveling Broadway shows were performed there in 1951 and since then Starlight has been the site of hundreds of plays and concerts.
In 1995, Starlight altered its mission statement to confirm that "education shares center stage" with its musical theatre productions. Several educational programs have been created and implemented, including the Blue Star program recognizing excellence in high school musical theatre.
The Just Off Broadway Theatre at 3051 Central St in Penn Valley Park, is housed in what used to be a Parks and Recreation Department operations building. The building was closed in 1991 following a fire, but former Parks and Recreation Director Terry Dopson led the effort to transform the building into a "black box" theater. It was, and is, the only theatre in Kansas City with stonewalls and a grassy courtyard. "Black box" theaters are a relatively new to the theatre world. They are typically simple performance spaces with black walls and a flat floor.
Owned by the Kansas City Parks and Recreation Department and managed by the Just Off Broadway Theatre Association, the theater holds cutting-edge local productions. More than 60 performing arts companies have performed more than 200 shows in the theater.
A recent renovation added a new lobby, concession stand and dressing rooms as well a second performance space and an upgraded heating and air conditioning system for the entire facility.
The Heart of America Shakespeare Festival is preparing to celebrate 20 years staging free productions of "The Bard's" plays in Kansas City's Southmoreland Park at Emanuel Cleaver II Boulevard and Oak Street. The Kansas City Parks and Recreation Department was instrumental in starting the festival and remains a major sponsor.
Thousandss of people saw the first production, "The Tempest," in 1993 and the festival continues to be immensely popular with families all over the Midwest. In 2012, the festival will stage productions of "Antony and Cleopatra" and "A Midsummer Night's Dream" with each playing every other night.
Museums
The Bruce R. Watkins Cultural Heritage Center at 3700 Blue Parkway is a living museum and cultural center, a tribute to the legacy of Kansas City's early African American pioneers. The center and museum embody the artistic, cultural and social history of the African American experience.
"The center was designed to focus specifically on the art and culture of African Americans in the Kansas City and beyond," said Jesse Barnes, executive director for the Bruce R. Watkins Cultural Heritage Center. "There was at the time no place like it so it was a very important facility for Kansas City."
Named in honor of Bruce R. Watkins, a political and social activist, the center is open to visitors of all ages.  Admission is free. The center, managed by KC Parks, features a permanent Bruce R. Watkins exhibit space, children's workspace, resource library, auditorium and two galleries.
Spanning more than 80 acres of rolling hills in Kansas City North's Hodge Park, the Shoal Creek Living History Museum at 7000 NE Barry Road is a village of more than 20 authentic 19th century buildings that date from 1807-1885. The village features log cabin and clapboard structures as well as an antebellum brick mansion home.
The Shoal Creek Living History Museum brings 19th century Missouri to life through special events, programs, tours and reenactments.
The National World War I Museum at Liberty Memorial at 100 W. 26th St. was designated by Congress as the United Sates' official World War I museum in 2004 and opened to the public on Dec. 2, 2006.
The Liberty Memorial Association raised $102 million to fund the restoration of Liberty Memorial and development of the 80,000-square-foot, state-of-the-art museum.
The museum features photographs, narratives and interactive multi-media exhibits as well as many historical objects, including uniforms, guns, surgical kits and countless other items.
"As the only museum in the nation dedicated to the Great War, we are delighted to work with the City of Kansas City, Missouri's Parks and Recreation Department to create meaningful experiences for our guests," said Denise Rendina, National World War I Museum senior vice president. "The history explored through the museum is very important, and we are proud to welcome guests from around the world to see this world-class collection."
Liberty Memorial, 100 W. 26th St., which was declared a National Historic Landmark in 2006, is the largest and probably the most famous monument in Kansas City. Situated in Penn Valley Park, the memorial was completed in 1926. The grounds are a work of art in their own right having been designed by George Kessler, famous for his "City Beautiful" landscape designs.
Liberty Memorial was dedicated on Nov. 11, 1926, by President Calvin Coolidge.
Fountains, Sculptures and Monuments
Known as the "City of Fountains," Kansas City, it has been said to have more operating fountains than any other city in the world, except for Rome.  While it is difficult to say whether or not that is true, there is no doubt that the fountains have become an important of Kansas City's identity.
KC Parks operates and maintains 48 publicly-owned fountains.
The first fountains in Kansas City were built to meet the needs of people and animals. Later fountains were works of art, designed for beautification, memorials and celebrations.
"The fountains are integral to the identity of Kansas City," said Jocelyn Ball-Edson, Kansas City Parks and Recreation Department senior landscape architect. "The city has adopted the fountains as its identity. There is such a wide variety of fountains. There is something for everybody."
Ball-Edson said some of the most popular and artistically significant fountains include the J.C. Nichols Memorial Fountain on the northeast corner of 47th Street and J.C. Nichols Parkway, the Meyer Circle Fountain at Meyer Boulevard and Ward Parkway, the Children's Fountain at North Oak Trafficway and 32nd Street and the Spirit of Freedom Fountain at 4700 Cleveland Ave.
"The J.C. Nichols Memorial Fountain is a classical European style," she said. "The Meyer Circle Fountain, most people call it the 'Seahorse Fountain,' is popular. The Children's Fountain is well liked largely because it's one of just a few fountains up north. The Spirit of Freedom Fountain is on Brush Creek and it kind of stands out as a modern contrast to fountains like the J.C. Nichols fountain. Its sculpture is abstract and gold, really different from the European classical style fountains."
As many fountains as there are in Kansas City, there are far more monuments and memorials.
The largest and perhaps the most famous is Liberty Memorial, but it is far from being the only notable monument in Kansas City.
The Scout, east of Southwest Trafficway in Penn Valley Park, created by Cyrus Dallin, is a 10-foot tall depiction of a Sioux Indian on horseback pointing East as he returns home from a hunting trip. There is an almost identical statue in Kansas City's first sister city – Seville, Spain – that points the direction of Kansas City.
In contrast to The Scout is the Salvatore Grisafe Memorial at 16th Street and Paseo Boulevard, created by Jac Bowen, a more modern steel sculpture. Grisafe was a teenager who was killed trying to stop someone from being mugged in the 1960s. Bowen was a student of renowned artist Thomas Hart Benton.
A monument to August Meyer at 10th Street and Paseo Boulevard, the first president of the Kansas City Commission of Parks and the man responsible for developing the parks and boulevard system, is a bas-relief sculpture on an 18-foot high Knoxville marble marker. It was created by Daniel Chester French, the same artist who created the Abraham Lincoln Memorial in Washington, D.C.
The Thinker, which is on permanent loan to the Nelson-Atkins Museum of Art at 4525 Oak St., belongs to the Parks and Recreation Department and is one of original castings of the sculpture, which depicts a man in sober meditating battling with a powerful internal struggle.
Despite the importance, stature and artistic relevance of other monuments, Ball-Edson said the most popular memorials tend to be those dedicated to America's wars and the men and women who fought in them.
"The war memorials are really important to people," she said. "Some of the other things, they fade over 90 or 100 years and people don't remember that person or that event. They are still important to their families, but most people kind of forget who they are. The war memorials, though, people have a very personal, very touching relationship with those."