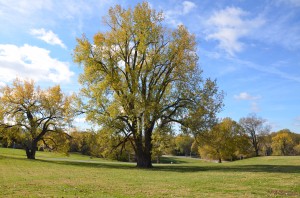 The Forestry Operations Division of Kansas City Parks and Recreation received a Tree Resource Improvement and Maintenance (TRIM) grant from the Missouri Department of Conservation (MDC). TRIM grants assist Missouri communities with the management, improvement and/or conservation of their trees and forests.
Kansas City was awarded a $1300 grant for forestry staff continuing education. The grant was used to send five staff members to the 70th  Annual Conference and Trade Show of the Midwest Chapter of the International Society of Arborist and to the annual conference of the Missouri Community Forestry Council.
While at the conferences staff attended  a variety of educational seminars on topics such as urban tree root system management and care, soils, tree nutrition, urban wood utilization, and trees in municipal planning.
TRIM is a competitive cost-share grant from MDC in cooperation with the Missouri Community Forest Council and U.S. Forest Service that provides up to $10,000 for community tree inventories, removal or pruning of trees, tree planting and educational programs.