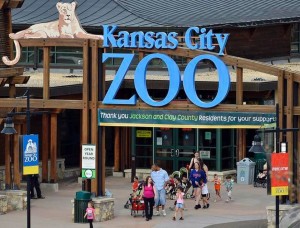 Kansas City Zoo continues to break new ground and this year is no exception. In 2015, more than 900,000 guests have experienced an adventure at the KCZoo, shattering old records and breaking new ground. With the opening of the Orangutan Canopy and additions of the chimpanzee baby Milo, the gorilla baby Masika, and the 10-year-old bull elephant Tamani, 2015 marked the highest attendance in Kansas City Zoo history.
"WOW," exclaimed Randy Wisthoff, Kansas City Zoo's Executive Director/CEO. "It's heart-warming to see how all of Kansas City has embraced the Zoo's growth since I began here in 2003. That following year we hosted 469,471 guests and embarked on improvement plans. To imagine we've increased our attendance more than 90% and are heading toward one million guests is a tribute to all the support this city and surrounding areas have provided. Thank you Kansas City, thank you residents of Jackson and Clay County for supporting the Zoological District and thank you all for visiting the Kansas City Zoo time and time again. We hope every day at our Zoo is a new adventure for you and your families and friends."
The Zoo has enjoyed a 9% increase in guests since 2012, with 882,194 guests in 2013 and 886,220 guests in 2014. We are still working towards the goal of 915,000 guests by the end of the year so make a visit to the Zoo and help us make history! Reaching the one million mark is on the horizon.