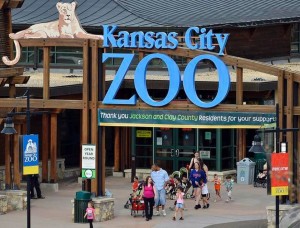 Kansas City Zoo continues to break new ground and this year is no exception. So far in 2016, more than 950,000 guests have experienced an adventure at the KCZoo, shattering last year's already impressive record. With the addition of two adorable koalas and the births of chimpanzee and orangutan babies, 2016 marked the highest attendance in Kansas City Zoo history.
As of November 1, 950,151 guests have enjoyed the Kansas City Zoo in 2016. That's already 38,000 more guests than we saw in 2015 when we finished the year at 911,336 visitors. In 2014 we had 886,200 guests and in 2012, 882,194 people visited the Zoo. With the million mark on the horizon, we are asking YOU to help us make history! Be the millionth guest and be showered with Zootastic prizes including a 2017 FOTZ Membership and a chance to get beak to beak with our feathered friends. The millionth guest to walk through the gates will enjoy a penguin ice shelf experience with up to nine of their friends or family. Bring your flock to the Zoo as often as you can for your chance to win before December 31, 2016.
There are at least a million reasons to visit the Kansas City Zoo before the year comes to a close. Our adorable marsupial friends are heading back to San Diego at the end of the month. Be sure to see the Koalas before they leave KC on November 30. December is packed with holiday cheer as well! Catch our gentoo and king penguins marching in the chilly air outside Helzberg Penguin Plaza at scheduled times each weekend. Santa Claus is also making the journey from the North Pole to take a dip inside the cold penguin exhibit. See St. Nick diving with penguins on November 25, 26 & 27 and December 3, 4, 10, 11, 17 & 18 at 2 p.m.
"WOW," exclaimed Randy Wisthoff, Kansas City Zoo's Executive Director/CEO. "It's heart-warming to see how all of Kansas City has embraced the Zoo's growth since I began here in 2003. That following year we hosted 469,471 guests and embarked on improvement plans. To imagine we've more than doubled our attendance and are heading toward one million guests is a tribute to all the support this city and surrounding areas have provided. Thank you Kansas City! Thank you residents of Jackson and Clay County for supporting the Zoological District! Thank you all for visiting the Kansas City Zoo time and time again. We hope every day at our Zoo is a new adventure for you, your families and friends."