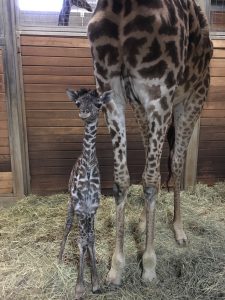 2/12/18 UPDATE: Drumroll please…..our adorable giraffe calf now has a name!  A generous, long-time KCZoo donor stepped forward to name our giraffe calf. We're happy to announce that they have chosen the name Dixie for this precious girl!
The KC Zoo's giraffe herd just grew by four hooves. On Friday, February 2, at 4:57 a.m., mom Lizzie gave birth to a baby giraffe. The calf weighed in at 105 pounds and already stands 5 feet tall. A neo-natal exam performed this morning showed that our calf is in good health and we now know, IT'S A GIRL! Right now, she is bonding with her mom behind the scenes and won't be on exhibit until temperatures permit.
The last giraffe calf born at the Kansas City Zoo was in 2015. This is the first calf for new mom, Lizzie, who was born at the Kansas City Zoo in 2012. She will turn six this August. Lizzie's mom, Mahali, is also at the Zoo so this calf will join a herd that includes her Grandma.
The father is eight-year-old Hamisi, the only male in the herd. He joined in 2016. Hamisi has fathered several calves at his previous Zoo but this is his first at the Kansas City Zoo.
It will be awhile before this adorable girl makes her debut on exhibit but until then, enjoy these sweet photos of our newest addition or watch via the Zoo's Giraffe Cam>>