On April 26, KC Parks and City officials gathered for a ribbon cutting celebrating the completion of the Maplewoods Parkway project!
Two and half years ago, Maplewoods Parkway from NE 96th Street to Ann Garney Park was still a narrow and hilly street. At that time, this corridor had high accident rate, there were no bicycle and pedestrian facilities, and the 4 way stops that used to be at the major intersections created unnecessary delays.
The reconstructed corridor now includes on-street bike lanes, sidewalks, and trails. Hills have been flattened and the 4-way stops have been replaced with roundabouts to improve traffic safety and to enhance traffic flow.
In addition to these safety improvements, rain gardens have been installed in the green medians to reduce stormwater runoff, and landscaping enhancements and artwork were also added to improve driving experience.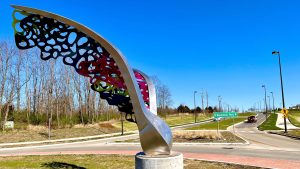 THE ART
A highlight of the project is the installation of new public art, Dream Swept, by Beth Nybeck. The new artwork was paid for by One Percent for Art funds set aside as part of general obligation bonds. Beth is a metal sculptor and public artist. To create Dream Swept, she imagined combining the forms of birds and the winged seed coverings of maple trees that whirl to the ground as they fall. The body of each bird-seedling is comprised of stainless steel, while the boldly colorful wings are made up of powder-coated stainless steel. Read More>>
FUNDING
The Maplewoods Parkway project was funded with $2M PIAC funds from Council District 1, $2M PIAC funds from Council District 2, $6M in Federal Surface Transportation Program dollars, $1M from Water Services, $1M from the Shoal Creek TIF, and $8M in GO Bond funds.
PROJECT PARTNERS:
Miles Excavating is the construction contractor who completed the segment from NE 96th Street to Shoal Creek Parkway. Miles is one of the Kansas City area's leading heavy construction contractors.
Hunt Midwest managed the segment from Shoal Creek parkway to Ann Garney Park. Hunt Midwest is a real estate development company with over 50 years of development, construction, and management experience.
CFS Engineering is the design professional that has provided the engineering solutions for this project. CFS has over 50 years of experience in all forms of public infrastructure.
HW Lochner provided construction management services for this project. Lochner also has over 50 years of experience in public infrastructure projects.
MoDOT administers the federal grant and has been working closely with the city to ensure that the project follows all federal funding guidelines.
KC Parks Planning & Engineering Division:
Project Manager James Wang
Construction Manager William Warren