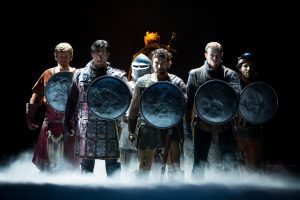 Hear ye! Hear ye! The confines of Starlight Theatre will transform into the kingdom of Camelot next week. One of theatre's most legendary musicals, Camelot will enchant audiences of all ages when it takes Starlight's Cohen Community Stage on June 9-14.
This production of Camelot, which launched its national tour last fall, reimagines the classic tale of King Arthur, Guenevere, Lancelot and the Knights of the Round Table in a way that is both intimate and fresh, while still preserving the beloved themes of brave knights, troubled romance, passion, betrayal and majesty. The musical's celebrated score includes the classics "If Ever I Would Leave You," "The Simple Joys of Maidenhood," and, of course, the title song.
Through song and narrative, the four-time Tony Award®-winning Camelot transports audiences back to 12th century medieval times. Taught well by Merlin, King Arthur and his beautiful queen Guenevere rule the kingdom of Camelot with new ideals, bringing peace to a troubled land. However, with the arrival of the dashing Sir Lancelot and his addition to the Knights of the Round Table, one of the most fabled love triangles of all time ensues. Finally, Mordred, King Arthur's illegitimate son, sees a kingdom in chaos and attempts to destroy all that is Camelot.
"The timeless story of Camelot has been preserved in this production, but the show also incorporates updates for our 21st century audience tastes," Starlight president and CEO Rich Baker said. "As we continue Starlight's 65th Broadway season, I think all audience members will find something to relate to in Camelot. From the men who dreamed of knights in shining armor and sword fights at a younger age to the women who want to watch a love story unfold, this show offers something for everyone."
Camelot's talented touring cast features Adam Grabau as Arthur, Mary McNulty as Guenevere, Tim Rogan as Lancelot, Mark Poppleton as Merlyn/King Pellinore, and Kasidy Devlin as Mordred. Of particular interest to local audiences is the fact that Broadway actress McNulty is a graduate of the University of Kansas' School of Music. Additional local flavor was added to the show with the casting of three Kansas City area boys – Maddox Carter Banes, age 11, Marek Burns, 9, and Andrew Stout, 13 – to alternate nightly in the role of Tom of Warwick at the conclusion of each night's performance.
The tour's creative team includes Michael McFadden, director and artistic producer; Kevin Depinet, scenic design; Paul Tazewell, costume design; Mike Baldassari, lighting design; Craig Cassidy, sound design; Steven M. Bishop, musical supervisor; and Marshall Keating, musical direction.
Based upon the book The Once and Future King, this musical masterpiece of lyricist Alan Jay Lerner and composer Frederick Loewe premiered on Broadway in December of 1960 and quickly became one of the most popular musicals of its time. The original production of Camelot ran on Broadway for 873 performances, and it has been revived three times since.
Tickets for Camelot at Starlight Theatre are on sale now for $12 to $91. Tickets are available online at www.kcstarlight.com, by calling 816.363.STAR (7827) or at the Starlight box office at 4600 Starlight Road, Kansas City, MO 64132. All performances begin at 8 p.m.