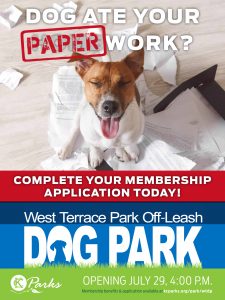 KC Parks downtown community centers will begin taking membership applications, fees, records and assigning key fobs on July 24. Key fobs will be issued at the Tony Aguirre, Westport Roanoke, Garrison and Gregg/Klice Community Centers during regular business hours.
Everyone is invited to attend the park's grand opening on Saturday, July 29. Membership is not required for this event.
Grand Opening & Yappy Hour
Saturday, July 29, 2017
4-6 p.m.
West Terrace Park, 750 Pennsylvania Ave.