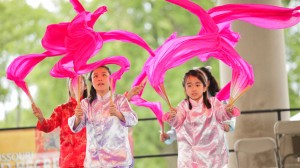 "Feel the World Beat in the Heart of America" at the 36th annual event in Swope Park.
KC Parks and the Ethnic Enrichment Commission of Kansas City, Missouri present the 36th Annual Ethnic Enrichment Festival in Swope Park.  The event runs Friday, August 21, 6-10 p.m.; Saturday, August 22, Noon-10 p.m.; and Sunday, August 23 from Noon-6 p.m. Adult admission is $3 and children, 12 and under, are free if accompanied by an adult. Parking is free.
The festival, one of the largest and longest-running of its kind, annually attracts more than 35,000 visitors. The 2015 festival features food, crafts and culture from 62 countries. Each country hosts a booth that displays and sells authentic food, artifacts and crafts from their respective country. The festival also has a Beer Garden offering domestic and imported beer selections from around the world. Kids' World by Odd ball Kids on Saturday and Sunday.
Stage entertainment includes performances by a different ethnic group every 30 minutes and the traditional and majestic "Parade of Flags" that begins at 4 p.m. on Saturday afternoon. Fashion Show begins at 2 p.m. on Sunday. Visit www.eeckc.net for details.