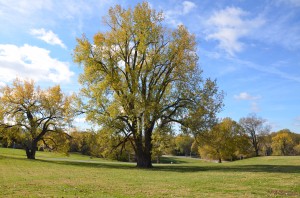 An Eastern Cottonwood in Kessler Park has been designated as a Missouri State Champion. Measuring 344″ circumference, 125′ high, with a 120′ spread, the tree is not only the largest of its species, but is the largest known tree in the State of Missouri. It is estimated to be more than 70 years old.
City Forester Kevin LaPointe received the official Champion Tree Award from the Chuck Conner with the Missouri Department of Conservation on November 6, 2014.  Located on the Cliff Drive/Kessler Park Disc Golf Course– near the old reservoir and Lookout Point–the tree is easy to spot.
Watch a segment from the City's Weekly Report, http://youtu.be/3q7QS5v1ir4
Read more about Missouri State Champion Trees.