In 2008, Kansas City's trails system comprised 25 miles of short, fragmented pieces. Today, the system has flourished, with 75 miles of long continuous trail segments throughout Kansas City. An additional eight trail miles are planned for completion in 2015. It's no wonder Missouri was named the "Best Trails State" by national organization American Trails!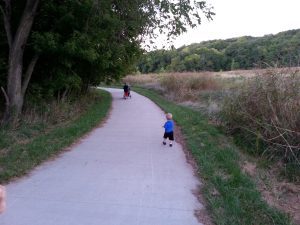 Enjoy a walk, jog or bike ride through some of KC's premier trails:
North:
Line Creek Trail: Walk or cycle alongside the wooded Line Creek while enjoying Platte County's natural beauty.  This trail includes connections to the Line Creek ice arena and the Kansas City Northern Railroad, along with a Fixit bicycle service station at 68th Street. The Line Creek Trail was awarded the 2014 Capstone Award for Infrastructure by the Kansas City Business Journal, and was named a finalist for Public Project of the Year by the Economic Development Corporation. The trail extends 11 miles from the Missouri River to Missouri Highway 152 and beyond to Riverside, Mo. Parking is available at the Line Creek Community Center and at the trailhead at Waukomis Drive and Gower Road.
Shoal Creek Trail: Another recent addition to the Northland, the Shoal Creek Trail extends from Happy Rock Park to Barry Road. Individuals will appreciate the quiet, natural beauty of the 10-foot-wide, 2-mile long trail, along with its proximity to activity areas, including Maple Woods Community College, Happy Rock Park, transit routes and Route 1 shopping. The trail also features a new pedestrian/bicycle bridge. Parking is available at Happy Rock Park.
Central:
Riverfront Heritage Trail: Kansas City's premier downtown trail, the Riverfront Heritage Trail, may be accessed at Berkley Riverfront Park, the City Market and the Westside and West Bottoms neighborhoods. The 15-mile trail extends from Kansas City, Kan., east through downtown Kansas City, Mo., passing many KC historical markers and public art exhibits. Visit www.kcrivertrails.org for more information.
South:
Indian Creek/Blue River Trail: This trail is ideal for bicyclists, dog-walkers and families, beginning near State Line Road and 103rd Street in the Watts Mill neighborhood.  One of the region's longest trails, it travels west to Olathe, Kan., where it passes through several parks and playgrounds, making for a fun, family outing.  East of the state line, the trail meets the confluence of the Blue River Trail and continues south to Alex George Lake. Those who venture this path will encounter three train trestle bridges and some of the most beautiful views of the Blue River. Trailhead parking is available at the Trailside Center (9901 Holmes Road), the Watts Mill Shopping Center (103rd Street and State Line Road) or at Alex George Lake.
Kansas City, Missouri 's trail system is developed and maintained through a partnership between the City's Parks and Recreation and Public Works departments, and many volunteer organizations. For more information, please visit: https://kcparks.org/recreations/trail/