Effort to preserve KC's signature fountains reaches $1 million mark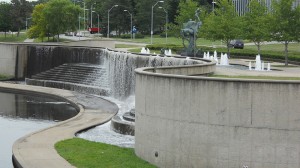 Pledges and contributions from more than 100 individuals, businesses, foundations and charitable trusts have pumped a million dollars into the seven-month-old "Wish Upon a Fountain" campaign to repair, preserve and endow Kansas City's famous – but aging – fountains.
The fundraising effort by the non-profit City of Fountains Foundation began last June with a Festival at Union Station, followed by an on-line art auction and a  summer-long public awareness campaign, featuring "Splash Mobs" and children's activities around fountains in most urgent need of repair.
The 2013 portion of the fundraising campaign was capped by a $500,000 year-end grant from the Hall Family Foundation to help restore the long-inoperable waterfall feature at the William Volker Fountain near Volker Boulevard and Oak Street (pictured).
The goal of the City of Fountains Foundation is to generate donations and pledges of $2.5 million or more to restore eight fountains deemed in critical need of major repairs, and to preserve and endow the city's 48 fountains, all of which need, or will soon need repairs and upgrades that exceed the city's limited maintenance budget. Casey Cassias, President of the City of Fountains Foundation, is optimistic that the fundraising goal will be met in 2014.
"To use a fountain analogy, the pressure is building and the commitments are starting to flow," he said. "There is genuine interest in the businesses community to fiscally adopt some of our beloved, but most endangered fountains. We hope to have several more major commitments to announce in the first quarter of 2014."
In the meantime, Cassias said, any individual, business, foundation or charitable trust interested in contributing in some way to the Wish Upon A Fountain Campaign is encouraged to contact the City of Fountains Foundation at 816-842-2299.  The City of Fountains Foundation work in partnership with KC Parks to operate and maintain Kansas City, Missouri's 48 publicly-owned fountains.