Community Engagement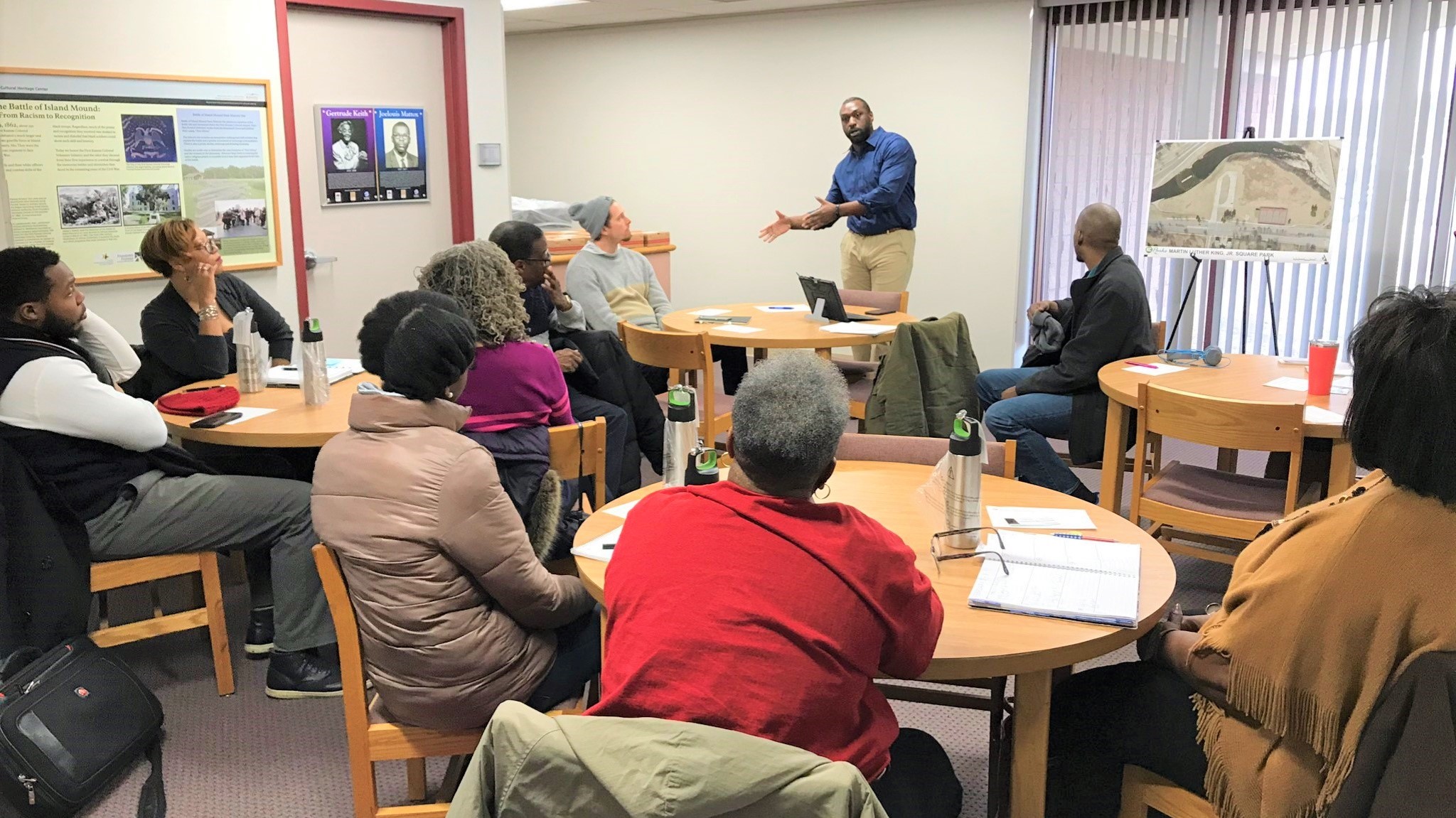 KC Parks is working to Involve YOU in all that we do.  Questions and comments should be directed to KCParksEngage@kcmo.org
---
Honoring Dr. Martin Luther King Jr.
NEWS: KC Parks Board Votes to Rename a Stretch of Road in Honor of Dr. Martin Luther King Jr. More>>
---
Public Engagement Sessions for Renaming Oak Street to Volker Blvd
Monday, May 10, 2021
5:30 p.m.
Bruce R. Watkins Cultural Heritage Center, 3700 Blue Parkway, KCMO 64130
Download Resolution to Rename Oak St. to Volker Blvd>>
All participants required to register here
---
Public Engagement Sessions for Renaming Oak Street to Volker Blvd
Thursday, May 13, 2021
6 p.m. (virtually Zoom meeting)
Download Resolution to Rename Oak St. to Volker Blvd>>
All participants required to register here
Join on your computer or mobile app
Click here to join the meeting  
Or call in (audio only)
+1 872-212-5076,,688130975#   United States, Chicago
Phone Conference ID: 688 130 975#
Find a local number | Reset PIN
---
March 8, 2021 Community Conversation:
February 25, 2021 Community Conversation:
December 20, 2020 Community Conversation:
---
Make a Difference Mondays:  Paseo Blvd. Litter Clean-Ups 
May 10, 17, and 24
Mondays, 9:30 – 11 p.m.
57th and Paseo (Park on street nearby and meet in median)
The community is invited to help us tackle the loose litter problem on our boulevard.  This effort is being led by KC Parks Ambassador Aaron DeWitt.    RSVP required.
---
MAKE A DIFFERENCE WHILE YOU DISTANCE
Stay active and make KC better together — even while we're apart.
Park use has exponentially increased during the pandemic, and unfortunately, the amount of loose litter has too. So next time you or your family head out to a park, trail, or take a walk along one of the beautiful boulevards, we hope you'll consider taking a bag and gloves to pick up litter along the way. Imagine the difference we could make if every resident collected just one bag of litter!
Here's how you can help:
Take a bag and gloves on your next outing. If you don't have supplies, contact volunteer@kcmo.org and we can coordinate a contact-free pick up with you.
Pick up litter following the safety guidelines below. Place bag in nearest trash can or next to the receptacle closest to the street for KC Parks staff to haul away.
Share photos on social media with #KCParks. Then challenge your friends!
Send your photo and location of your trash to: volunteer@kcmo.org.
Follow steps 1-4 on your next outing. It's a healthy habit to create.
Where You Can Make a Difference
Help beautify your favorite park or explore somewhere new. These parks could use an extra hand:
Blue Valley Park, E. 23rd St. & Topping Ave
Swope Park, Swope Pkwy & Meyer Blvd.
Kessler Park, Chestnut Tfwy & Cliff Drive
Penn Valley Park (near tennis courts, The Scout, around Lake), West 29th St. and Broadway Blvd.
Chouteau Greenway Park, N.E. 42nd Terr. & Chouteau Pkwy
Hidden Valley Park, N.E. Russell Road & N. Bennington Ave.
Pleasant Valley Park, 6401 N.E. Pleasant Valley Rd
Noble Park, E. 75th St. and Cleveland Ave.
Litter Cleanup Guidelines
Wear sturdy shoes (no sandals), and gloves. Wash your hands well afterward.
Wear sunscreen and insect repellent when appropriate.
Avoid working near roads or parking lots.
Don't overfill your bag—keep it light enough to carry.
Look out for poison ivy or thorny plants. Don't eat any berries or mushrooms you find.
Don't enter high vegetation areas (home to snakes and other wildlife) or bodies of water.
Don't pick up dangerous items such as glass, razor blades, syringes or needles, household hazardous waste (HHW), dead animals, weapons, and unlabeled chemical containers.
If you find chemicals, HHW, or dead animals in the open, call 311.
Please do not clean up homeless sites, but please report them by calling 311.
Thank you for helping beautify KC Parks! We look forward to hearing from you!
---
Southeast Community Center Pool Virtual Community Conversation
Thank you for to everyone who participated in Community Conversations about Southeast Community Center Pool.    We had 28 attendees, 6 KCMO Parks Staff and 2 from the design team.  There were more than 90 who took the survey.  Thank you.
---
Updates to MLK Park
**Download the MLK Park Presentation from Community Meeting #1
**Download the MLK Park Presentation from Community Meeting #2
A link to the interactive map of the park site is below.
Martin Luther King, Jr. Square Park Interactive Map
KC Parks Board Awards Million Dollar Contract to Diverse Project Team for the Design-Build of Historic Playsite at MLK Park>>