Pool Upgrades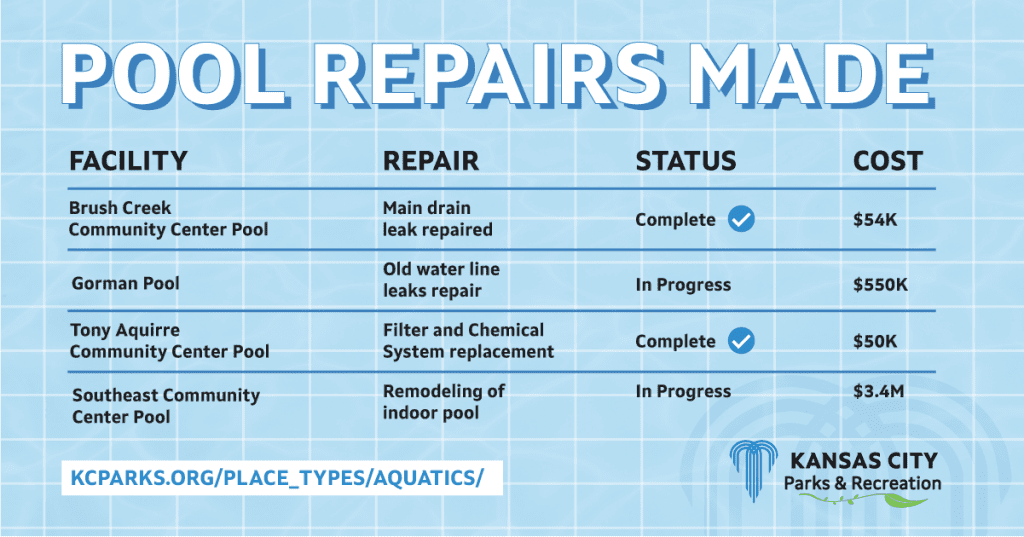 Brush Creek Community Center & Pool in the 3rdDistrict

The major repairs to this pool are complete.
The main return line to the pool was repaired through $54,000 of Park Deferred Maintenance Funding.
Gorman Pool in the 1st District

Parks is in the process of repairing the pool's old water line.
The line is currently installed, and the pressure was tested. Concrete is currently curing on this project.
The final pool work will begin on June 14 and hope to have the pool open by July 4. Gorman Pool will be open July 1-August 13, 2023
The estimate of repair was at $400,000. 
Tony Aguirre Community Center & Pool in the 4th District

The filter and chemical system were repaired, and the pool is currently open.
This cost $50,000 and was paid for through Parks Deferred Maintenance Funding.
The gym floor was also replaced.
Southeast Community Center & Pool in the 5thDistrict

The demolition of the old pool is currently in progress, and construction will begin when this is completed. The project is $3.4 million dollars' worth of upgrades through general obligation (GO) bonds.
The project is expected to be complete by the spring or summer of 2024.
Southeast Community Center will be the hub where our lifeguards will get training and become certified ahead of our pool season each year. Midwest Pool Management is working hard to make sure our pools have enough lifeguards to keep swimmers safe this summer. For details about lifeguard job opportunities click here.
**KC Parks Aquatics Master Plan Website>>
**Link to all KC Parks Aquatics facilities>>